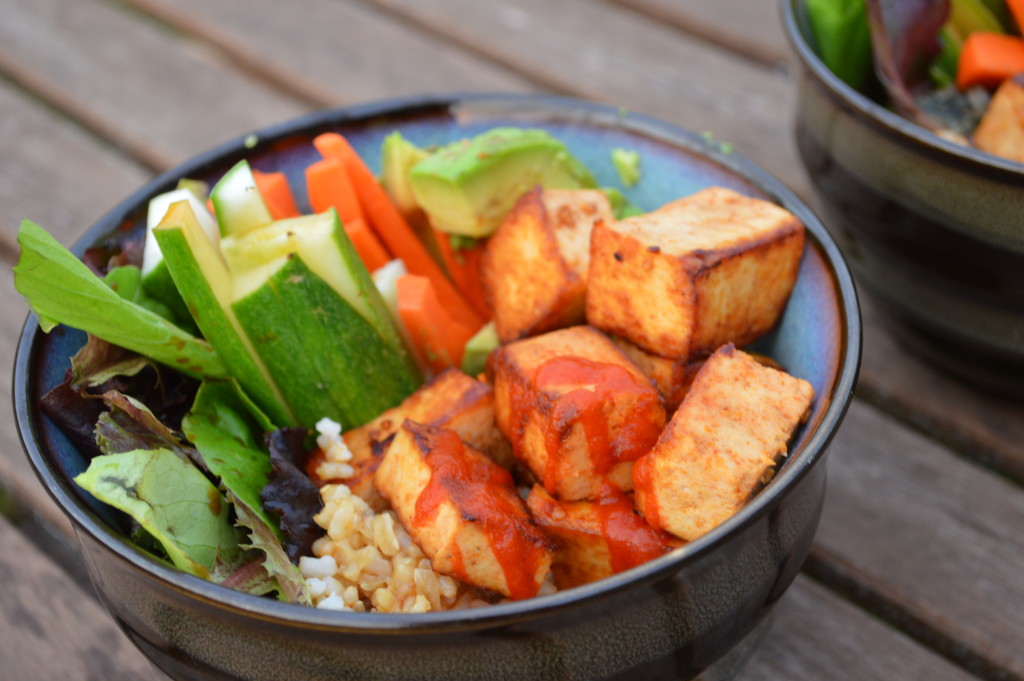 Ok, maybe this salad didn't change everything, but it sure did change my love for spice and heat! Honestly, before having this salad, I wasn't a huge fan of spicy hot sauce. It always tasted hot, but never flavorful. Then I tried Sriracha hot sauce. Not only is it REALLY hot, it is also really flavorful. I might have a mild addiction to it 😉
I know I've mentioned this before, but I absolutely love salads and raw food. But sometimes, I want a little cooked food with it. And I want it to warm me. This meal is perfect for both! It has some cooked grain and protein in addition to the greens and vegetables. And it has a spicy, salty dressing.
Spicy Tofu Bowls for Two:
This is one of my favorite meals. Feel free to play with the ingredients and add your own favorite combinations!
2 tbsp Sriracha (asian hot sauce)
1 tsp Agave nectar
1 tbsp Tamari
1 tsp Chili Paste
1 tsp Coconut Oil
1 tsp Ground Ginger
1tsp Garlic Powder
½ -1 package pressed, drained tofu
1 Package mixed greens
1 Avocado, sliced
1 Carrot, peeled and chopped
1 Cucumber, peeled and chopped
¼ red onion, diced
2 cups cooked Brown Rice
Cook the rice, either ahead of time or before you start to prepare the rest of the meal, as it takes the longest to cook.  While the rice is cooking, press your tofu. Drain the water out of the package. Place on a plate, wrapped in a paper towel if you have them. Place another plate on top. Top this with a heavy book or object. Side note, French presses may seem heavy, but can break if they topple off the tofu plate onto the floor. And then it might make you sad when you can't make coffee or tea. Trust me on this one. Let it press/drain for 30 minutes. Remove the towels and drain the water. Cut into cubes.
While the tofu is pressing, you can start your marinade. Add the ground ginger, garlic powder, chili paste, agave, 1 tsp of tamari, 1 tsp of sriracha to a large bowl. Whisk all ingredients together.  *Add salt if needed.* Add tofu cubes and marinate for another 20 minutes. By this time, the rice should be finished.
Heat coconut oil on the stove in a sautee pan on medium heat. When it melts/heats, add the marinated tofu. Heat until browned/blackened on one side, then flip and brown the other side. In your bowls you will eat out of, assemble your ingredients: rice, then mixed greens, then tofu. Top with ½ avocado, ½ of the diced onions, ½ carrot, and ½ cucumber. Use the rest of the tamari and the sriracha as your dressing.
It's spicy, sweet, salty, and tangy. Cooked and raw together. A meal in a bowl. In a word…Fantastic!
What's your favorite flavor combination? Leave a comment below!
And remember sign up for the House of Healthy newsletter for all your healthy living tips and updates.
Peace and love,
Jessi