Southern cuisine is rich, thick, and full of some bold flavors. Most of which are not going to be found on any healthy menu or in any health store. 
I have lived in the south for most of my life, but as far as cooking goes – I'm a Northerner. Collard greens, black-eyed peas, okra, cornbread – these were all very foreign to me as a kid and even more so as an adult trying to cook. The closest thing we ever had to cornbread in our house was Jiffy corn muffins – which were tasty but a little to prepackaged for my tastes these days. 
The one thing I did have was a southern neighbor who made cornbread almost daily for her large extended family. It would be warm, and served with dinner, a bit or butter, or even in a cup soaking up some buttermilk.
Super rich but not really on my choice of menus lately.
At a trip to our local farmers market last year, I bought some corn meal, straight from the farmer who made it. I served it up with Thanksgiving dinner as the stuffing (Recipe coming soon!) and it was delicious. And much healthier than any other kind I had ever had or made.
While rummaging through my pantry over the weekend, I found the rest of the cornmeal and decided it was time for another round of cornbread.
Who said Southern food couldn't be healthy?
This cornbread is dairy-free, egg-free, and gluten-free. And the coconut sugar – well that's low glycemic, meaning it won't spike your blood sugar. No worries, no guilt. Just subtly sweet bread. Perfect for a snack, with dinner, or with your morning juice 🙂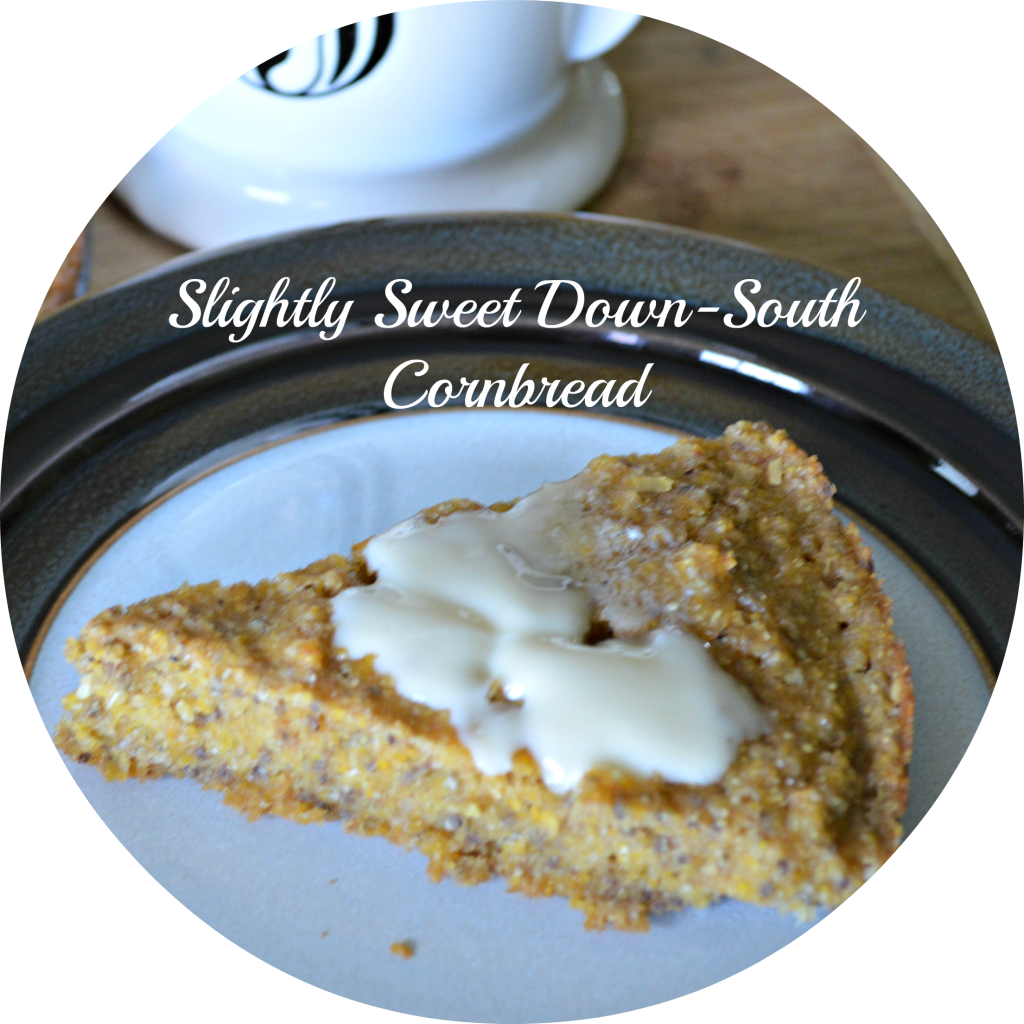 Healthy Southern Cornbread:
1 cup cornmeal
1/3 cup brown rice flour
1/3 cup teff flour
1/3 cup tapioca starch
2 tbsp coconut sugar
2 tsp baking powder
1 cup coconut milk
1/4 cup coconut oil
1 chia egg (1 tbsp chis seeds soaked in 4 tbsp water)
**You can also use almond meal, instead of teff or brown rice flour. If you want it sweeter, use another tbsp of coconut sugar**
Preheat oven to 425 degrees. Add all ingredients to a large bowl. Mix together with electric mixer (if no electric mixer, melt coconut oil so it will blend in). Pour into a round cake pan. Bake for 25 minutes. Serve slightly warm OR make an extra batch to set aside for a stuffing recipe 🙂
How sweet it is 🙂
It's your turn. What is your favorite healthy version of a not-so-healthy dish? If you like what you read,  leave a comment below and share it on you favorite Social Media site.
Let's keep this healthy revolution going!
Peace and Love,
Jessi