As I am writing this I am patiently waiting for my husband to finish up a work project (called in last minute!) so we can head out to the start of our vacation – a 2 day music festival where, technically, I will be working. But my work is really play – I'll be bringing my Detox Your Life workshop to the festival to help people destress, relax, and enjoy life well beyond the weekend.
From there we make a quick stop back at home and then road trip our way to Texas, where we'll catch up with old friends, celebrate a wedding, and explore a new (to us) state.
Traveling is one of my absolute favorite things to do, but sometimes it can be quite hard to find food to eat, especially while on the road. It's not that we can't find healthy grub, but it can be hard to find it gluten free. No wheat can be harder than no dairy, no egg, or even no meat at all. It is usually this piece that leads to stomach aches, hunger, or boring choices. 
With a little prep work and not too much time, this can be alleviated a bit.
Here are my top 5 ways to travel gluten free (or any diet- allergen- free):
1) Pack lots of fresh, no-refrigeration-needed produce. Throw a few of your favorite fruits and veggies into your bag and ehad out the door. This way you'll have quick snacks or nutrients to supplement your not-as-healthy meals while on the go. This will also help you stay energized and , well, regular while traveling.
2) Look up places to eat along the way If you know where you'll be stopping, ask around or "google" a few places you can eat. We always look for a Whole Foods store, because we know we can get a variety of foods straight from the hot bar or salad bar.
3) Make some gluten/allergy free bars to take with you. Just like your fresh produce, these travel well and can be used as a snack or to supplement a meal when needed.
4) Pack a lunchbox. Bring a little cooler or ice pack with you in case you have anything that might melt a little (aka chocolate granola bars or sliced fruit) or would stay better a little cooler. You can slip this into a purse or small bag and carry with you.
5) Pop some pills. Probiotics that is. These will help keep your gut on track and help soothe and fight against any irritants that might creep in whiel traveling. Water and ginger tea will also help to flush irritants out of your system and keep your digestive tract moving.
With a little prep – healthy and fun food is possible while traveling. You just have to look for some great things to make, prep, or find near your location. All in all , it takes minimal time and saves a whole lot of trouble. And luckily, there are many people creating, publishing, and sharing recipes so you don't have to struggle to stay healthy and bellyache free while traveling gluten free.
In Gluten Free Treats and Desserts: 22 Mouth-Watering Gluten Free Treats E-Book, you'll find plenty of recipes to get you started, including these easy to travel with Blissed Out Bliss Balls from Claudia Richey, creator of DoshaFit  and my own Fudge Brownies. These both pack a punch of protein and healthy nutrients with a little sweetness so you never feel deprived.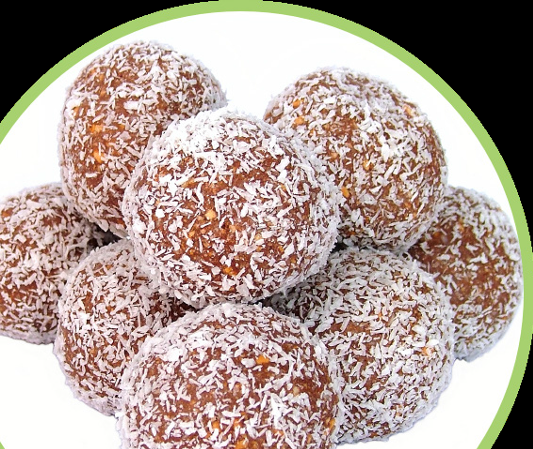 Blissed Out Bliss Balls
1/2 cup Almonds
1/2 cup Raisins
1/2 cup Tahini (Sesame Butter)
1/4 cup Raw (unpasteurized) Honey
2 tsp Cinnamon
2 tsp Cardamom
1/2 cup Dark Chocolate Chips (70% or bitter-sweet)
1/3 cup Shredded Coconut
Directions
1. Grind the almonds fine in a food processor
2. Add the raisins and grind until they are chopped
up
3. Add the tahini, honey, cinnamon, and cardamom,
and blend until everything is well mixed.
4. Empty the mixture into a mixing bowl, and
handmix the chocolate chips in.
5. Put the shredded coconut into a shallow bowl or
a plate.
6. Form balls from the mixture, roll them in the
coconut, and arrange them on a platter.
7. Keep them refrigerated.
Claudia Richey – Fitness & Nutrition Expert, Ayurvedic Wellness 
Counselor

Claudia Richey is a Fitness Expert and Ayurvedic Wellness Practitioner. She is the founder of DoshaFit®,

merging ancient Ayurveda with Modern Exercise Science, and the creator of "The Breaking Free Program"
which teaches women to manage their weight and live a healthy life according to their body-mind type.
Claudia teaches Trainers and Health Coaches to help their clients succeed using the DoshaFit® Way of Life.
web: www.doshafit.ca
facebook: www.facebook.com/doshafit
pinterest: www.pinterest.com/wellnesspro/
You can download your own full guide by entering you email address here.
Take action now:
What is the biggest challenge to staying healthy while traveling and what is one step you can take on your summer travels to make it a little less challenging? Leave a comment below and
sign up
for your healthy guide!
Peace and Love, 
Jessi