On Saturday morning, I head out the door mid morning to teach a hot yoga class for an hour. Post class my husband and I grab a cup of local coffee or tea and head straight to our town's farmers market. The market in our area runs form April through November, and for these 8 months we get the majority of our groceries form local farmers selling local produce. 
We do it for a few reasons. The food is fresher, our wallet stays happier, it supports the local economy, and it's fun 🙂 We usually go with a list and end up picking one "surprise" ingredient that we weren't planning on getting.
Something fun and funky.
Something like these farm fresh Purple Potatoes.
Purple potatoes have a deep purple color and are richer in anti-inflammatory anti-oxidants than regular potatoes.
Now what to do with purple potatoes? I wanted to mash them or roast them, but then I thought "Wait, it's summer!" and this healthier summertime potato salad was made.
It packs a ton of flavor and color, but it uses much less mayo (I actually used vegan mayo) to cut the unhealthy fat.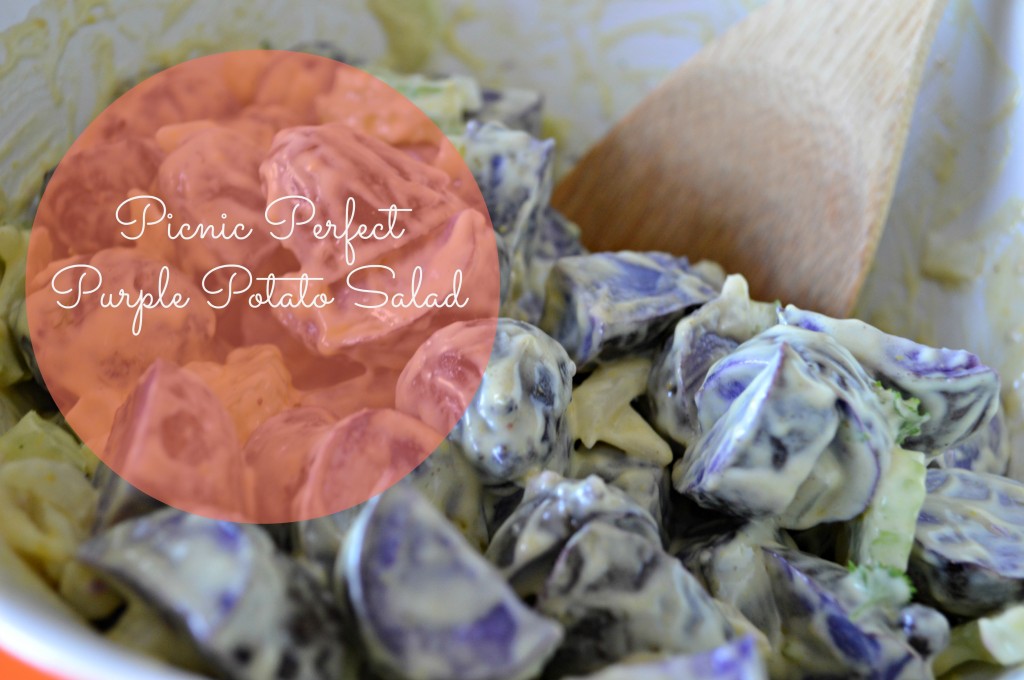 Picnic Perfect Potato Salad:
Perfect for your summertime picnics and cookouts
3 cups purple potatoes, chopped in one inch pieces
2 tbsp mustard
1 tsp apple cider vinegar
1/4 cup vegan mayo (you can use regular)
1 tbsp fresh parsley, chopped
1/4 onion, diced
2 celery stalks, chopped
pinch sea salt and pepper
1/2 tsp garlic powder
Boil potatoes until cooked but firm. Rinse in cold water and place in fridge to cool for at least 20 minutes. After they have cooled a bit, add them to a bowl with all other ingredients. Mix together until coated thoroughly. Store it in the fridge until you are ready to serve.  
Do you shop at a local Farmer's Market? What is your favorite thing to get and why do you go? Leave it in the comments below. 
And remember, there are only a few days left to join in on the Lighter in 10 Days Cleanse. Registration closes July 5th, so make sure to sign up before you get to wrapped up in your 4th of July festivities!
I'll "see" you there. 
Peace and Love, 
Jessi