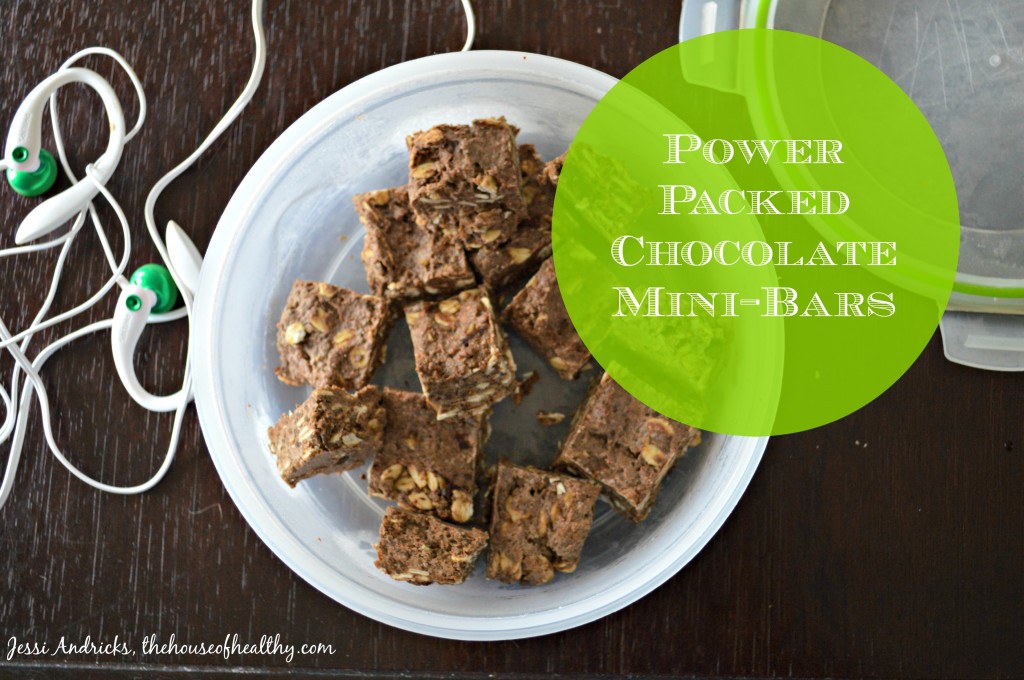 If you checked out the Facebook page over the weekend, you might have noticed these yummy bites. Pretty good tease, huh?
After gearing up for 2 increasingly longer runs in a row, I knew I needed a little snack I could pop in and refuel with, especially with a jammed packed weekend. Between the rain, Shop updates and behind the scenes work,  a 5(accidentally 6!) mile run, and taking the dogs to the dog day at the water park, Sunday was packed full of activities. And even though it was the weekend, it felt a little like during the week.
With so many classes to teach, I often feel as if I need a quick bite I can grab in between meals. Sometimes it is a handful or two of nuts, sometimes it is a piece of fruit or leftover breakfast smoothie, and other times it is a bite/ball/bar packed full of everything I need to recover and go.
This is exactly what today's bar is. This one is creamy tasting, even though it is solid, and quite chocolaty. It needs to be frozen, since it doesn't have flour or dates to hold it together, but this only makes it taste a little more like chocolate ice cream. Y-U-M Power Packed Chocolate Mini Bars:
Makes 12+ bites
1/2 cup chocolate cocoa or protein powder
1 1/4 cup oatmeal (gluten free if preferred)
2 tbsp coconut sugar
2 tbsp vanilla hemp protein powder (or more chocolate/cocoa if preferred)
1 tbsp chia seeds
4 tbsp water
1/2 cup dark chocolate bar or chunks
1 tbsp coconut oil
pinch sea salt
Add chia seeds and water to a small bowl. Stir them together and set aside to let them thicken up. This will be what holds your bar together.
In a larger bowl, stir together the remaining ingredients. Add your chia "egg" to the mixture and stir again. Line a bread pan with parchment paper another non-stick surface and spread your dough into 3/4 or your pan. Place in the freezer for an hour.
Remove and cut into 1 inch squares. Keep in the freezer until ready to eat.  Enjoy a couple  post-workout or have one as a little snack or dessert.
What is your favorite grab-n-go healthy treat? Do you prefer cold and frozen, or warm and baked?
Stay tuned this week for more updates and a big announcement!!
Peace and Love,
Jessi
PS Speaking of running, if you haven't signed up for the newsletter, you might have missed this update – The Shop has been updated and now includes 2 Free Half Marathon training plans, as well as a full-blown Half Marathon Training guide that includes 3 plans (perfect for beginners, those new to running, and people looking to step it up a bit), food for fuel, cross-training plans, and 3 free one-on-one coaching sessions.