A month has gone by and schedules have changed, so I figured it would be a good time to update "Whats in my Kitchen?" with a little tour of my latest grocery haul.
After both the hubs and I being out of town for a long weekend, and then jumping back into a short work week, grocery shopping was a little all over the place last week. I usually head out to Trader Joes for groceries on Friday after class or on the weekend. So last week, I just picked up a few things here and there and by Sunday, our fridge and pantry were both E-M-P-T-Y.
On top of that, the hubs was starting a new half-semester at school, which meant having lunches packed for the week would come in handy. In the long run, it saves money, but it is also a bit healthier than many of the grab-n-go lunches at his work. IN this edition, I still have a little more than a weeks worth or groceries, but I also spent a little more, keeping it just over $150. The reason – all those lunches. But it should all balance out and even save some dough in the end.
So what did I get?
Breakfast:
Gluten Free bagels with Goat Cheese (for a splurge)
Beets, Carrots, and Apples for juicing
Frozen Berries and Coconut Water  for smoothies (a staple I always try to keep on hand)
Avocado for toast or bagels
Bread for toast and creamer for coffee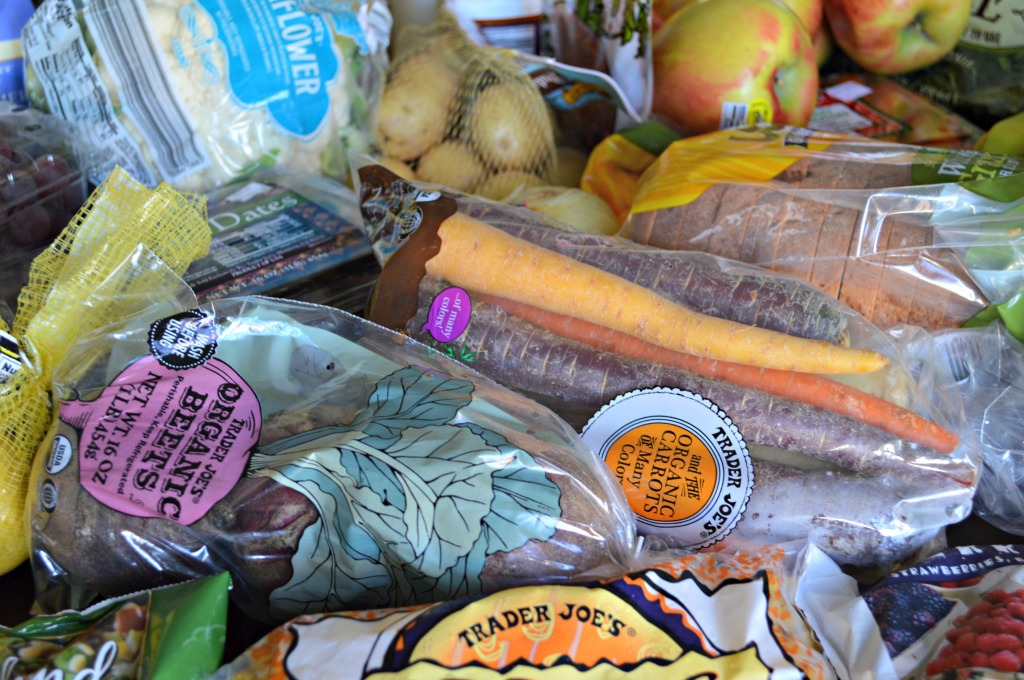 Lunch:
I usually eat leftovers or throw together a salad of sorts. For the grown-up lunch boxes (which I'll post about later this week):
Grapes
Hummus
Grape Tomatoes
Crackers/Mulitgrain Chips
Cheese Sticks
Cheddar Cheese to cut into cubes
Greek Yogurt
Apples (peanut butter was already in the fridge – where do you keep yours? Fridge or cabinet)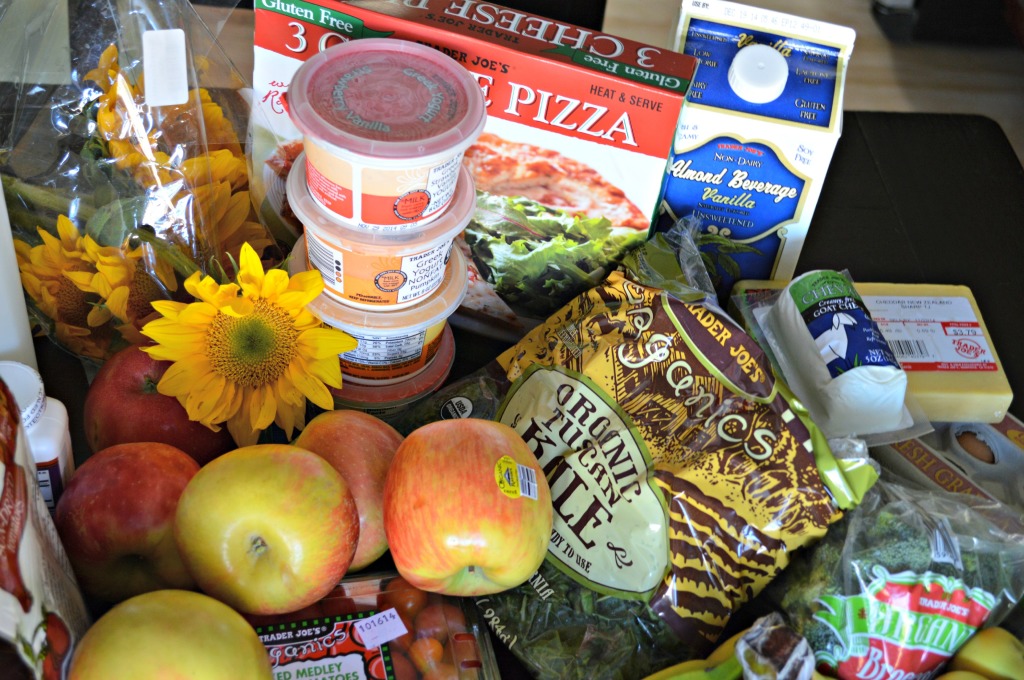 Dinner:
Shepherd's Pie (with some other items from the fridge): recipe coming soon, if its good!
Roasted Veggies (Potatoes and Carrots with Brussels Sprouts)
Caesar Salad with tofu or salmon (yup, we eat fish again)
Baked Tofu, Noodles, and Stir Fry Veggies
Butternut Squash – roasted or with Mac n cheese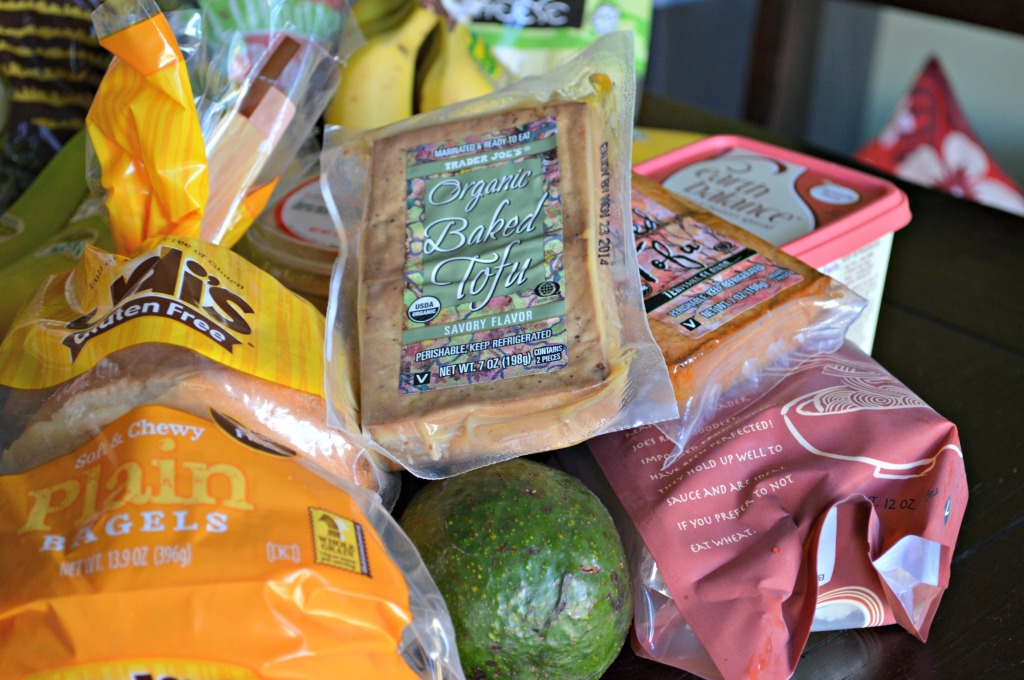 Extras:
Lemons: I use them in so many things and I start each day with warm lemon water.
Frozen Items: I have started grabbing a few quick-to-cook frozen mixes for nights that classes run late, or we need to throw together a quick meal. I look for items without added sauces (usually) and than are mostly just veggies and grains. I have even found some that are pre-chopped smoothie mixes (without any powders or added items) for early mornings. We also usually grab a frozen pizza (gluten free) to keep in the freezer for splurge nights or nights we really need a quick dinner. We try to get plain cheese and add our own fresh veggies.
Canned Stuff: I don't keep much canned items around for a few reasons, I don't use them much and frozen items tend to be a bit healthier (less preservatives, processing, and chemicals in the packaging). The things I do keep around are black beans and chickpeas. These items are staples in our house and can be thrown in a bowl with grains and veggies for a super healthy, quick dish.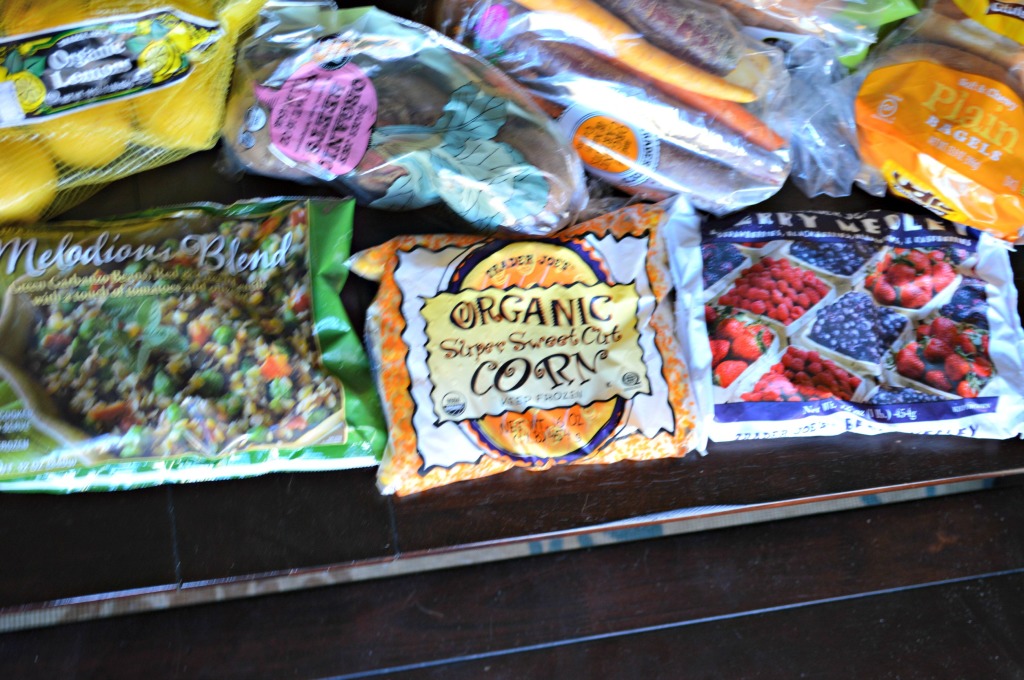 Overall, we stay low processed and mostly organic. Most meals are full of fresh fruits and veggies, or some frozen produce that maintains the nutrients. Most of this should last a week or so, with plenty of flexibility for breakfast, lunches, and dinners.
Question time:
As a grown-up, do you pack lunch? Does it look like your kids lunch (or what you ate as a kid) or has it been upgraded?
Or, if you prefer to eat out, what do you buy that is cheap and healthy?
Any grocery tips for budgeting and getting healthy foods?
If you are looking for a few more tips, as well as some strategies for staying healthy through the holidays, registration is now open for my new program 21 Days to Flourish. It is now available at a discounted price and runs November 3rd -21st. You can get healthy, look fabulous, and stay healthy throughout the holiday season…and beyond. Check it out here.
Peace and Love,
Jessi