Once upon a time, there was a young dancer in NYC who like many former ballerinas hurt her back in a rehearsal one day…
And that is how Pilates Pro Ana Caban's story starts.
While I was at the Pilates Empowerment Summit, I had the honor of sitting down and chatting with Pilates Expert Ana Caban. I first heard of Ana about 10 years ago while browsing through the workout dvd section of Target. I was looking for a new Pilates workout (I had previously purchased one on QVC and was looking to freshen my routine a bit) and stumbled upon Cardio Pilates. I bought it, used, it , and realized right away, this lady knew her stuff! Over the next few years, I saw her name on most Pilates dvd's and home practice routines, including the Gaiam monthly streaming (affilitate link here) program.
I was thrilled to take Pilates and workout classes with her at the summit, to learn Media and Branding tips from one of the top fitness names, and to just sit and chat with a fun, fiery, and extremely knowledgeable teacher.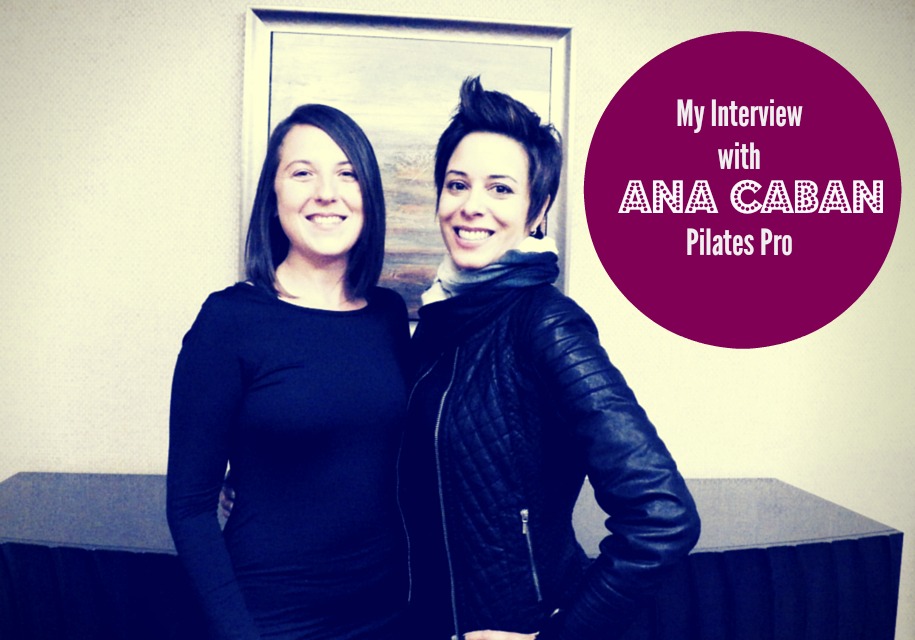 Ana's Pilates history:
The day my back decided that was enough, all I was doing a curtsy move. That was it, that was the move. I was lying on the floor like a dying cockroach because my back seized up. I had to figure out how to get better. I did what everyone else does, I went to massages, the chiropractor, shiatsu – I tried everything. It wasn't until I went to a chiropractor, who was generous enough to say. "I can adjust you but unless you do something for yourself, you're going to have to come back to me. I recommend Pilates. Its going to help maintain what I do here if you hold your posture."
This was like 1993. Most people thought Pilates was a vegetable. My mom helped me pay for Pilates once a week. I did Pilates at studio with my instructor. She would give me homework – stick figures she wrote out on a piece of paper. There were no books. There was nothing available, certainly no dvds yet. Nothing She would say, "Go home, do these exercises and I'll see you next Monday." I would live for Mondays because I knew I would leave feeling great.
At the same time I was working retail to have some money and figure out my next step in life. I was selling shoes, carrying shoe boxes, and standing all day. Pilates gave me tools to take care of myself.
My intro was self care. That's all it was. It was a cool tool, I had it in my tool kit. I ended up becoming a school teacher. I taught Spanish for two years. The second year was in Miami. I was at the beach in Miami after school one day wondering "What am I going to do with my life?" It struck me – I was a dancer my entire life, so all I knew was movement and how to move. Then I became an educator. So why not educate people to move their bodies more safely?
I was certified in 1998, opened my first studio in Miami, and had that until 2000. In 2000, very serendipitously, I met a boy in Southern California, and Gaiam, known as Living Arts, opened in 2000 in Southern California. They called me in March of that year and asked "Do you want to shoot a dvd?" and I was like, "What to do I have to lose?".
I shot 24 or 25 dvds. Not all are available anymore. Some have been renamed or compiled, and might have a different format. Some are available for streaming on hulu, itunes, or streaming in hotel rooms. It started off as Beginner Pilates, and they said lets go ahead and shoot 2 titles while we are here. In that first year we shot 7. They've never shot 7 titles with one talent ever, but Pilates was hot. The flood gates opened and people couldn't get enough. I shot for 7 years with them.
Where are you now?
Right now I do many things. I am a master instructor for Peak Pilates, and I have been since we started our education program in 2001 and 2002. I still do master trainings, because I enjoy teaching teachers. It's much different than teaching clients. They come excited to learn skills and they are passionate for it. I train once a month and work for Madd Dogg now. I am an equipment manager and I handle corporate accounts all over country. I have a few private clients and I teach for Equinox group fitness, because I love the group environment. I also mentor colleagues now.
Number 1 tip?
What is your secret sauce? What makes you different? People want to connect with people. What are you passionate about? That translates into work and might also be a niche for a particular type of workout. Take something they are passionate about and use it. Really finding what your unique sauce is, letting it drive your business and not being ashamed to share it with people. What might have seemed like a handicap when you were younger might be exactly the thing that puts you apart now.
What is your tip for people getting started? Where should they go?
The good new is Pilates is everywhere now. Its tried and true and will always be there. There is probably a Pilates mat class a the least right outside your door: at your YMCA, at your college, your gym, even a ballet studio. I love it because its pretty portable anywhere you can lie down you can do your workout. You don't need anything. If you just focus on the actual workout it can be pretty hard. PeakPilates.com will help you find an instructor near you or how to get certified. You can also start with a DVD. Plenty of people do. In fact, many of the Peak Pilates instructors first started Pilates using a DVD. You can find the award-winning Pilates DVD collection, produced by Gaiam, at retailers and online. 
Favorite move:
Every time we get to The Teaser I say "What time is it? Teaser time!" I may struggle with some other exercises, but I think I can usually nail a teaser. There are different variations of what your arms and legs can do. I think teaser is great.
You can find more from Ana Caban, including her dvds, schedule, and new programs at AnaCaban.com
More exciting stuff is coming up in the next few weeks, so stay tuned!
Peace and Love,
Jessi