It's official – Winter is here! To help you cozy up this winter, as the weather turns colder and the sky's a little grayer, I have teamed up with an brand new company called Toe Talk.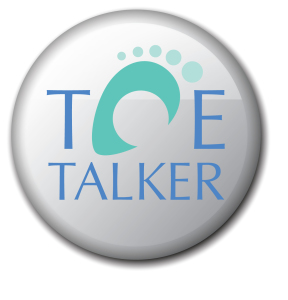 Toe Talk was created by Jan Beresford after struggling through her Pilates class one day. She was looking to her toes for proper alignment  and realized, if her toes could speak, they would be able to give her the motivation she needed. So Toe Talk socks were created. Each sock features a mantra or motto to help keep you inspired whenever you glance at your toes. They also have grips on the bottom, so they are perfect to wear during your yoga/barre/Pilates classes, especially if your toes get chilly. And even if you aren't heading to a class anytime soon, these socks are soft and cozy for your toes. Perfect as winter rolls full speed ahead.
Not only have I teamed up with Toe Talk for this giveaway, I am a proud Toe Talk ambassador. I fully believe in what they are doing, and love their product. I have been wearing the socks to inspire me and keep my toes warm during my work days, but also to inspire my classes during their most challenging poses/days. With mantras like "seek balance' and "be mindful", it is easy to pick the one that best fits your life.
Here are a few more things to know about Toe Talk socks:
– Every time you purchase a sock, they donate $1 towards charities such as Best Friends Animal Society, Save the Children, The Nature Conservancy, Stand Up to Cancer, Bright Pink and more.
– If you are an artist of have a mantra you love, you can suggest it to them for the next sock design. They are currently featuring the Namaste and Warrior Chick socks in their artist series.
– Each Monday is Mindful Monday where they have a featured sock for $2 off. Follow their Facebook page so you don't miss out of the savings.
– For their Grand Opening, they are holding a sweepstakes for a trip for 2 to Turks and Caicos!! How amazing is that?! Click here to learn how to enter.
To help you get a little warmth on your toes and inspiration in your day, I am giving away 7 pairs of socks for the winter season. There will be 7 winners, each getting a pair of socks. Because there are so many socks, you have many ways to enter to win. The winners will be decided on December 26th. Think of it as your chance to treat yourself for the holidays 🙂
a Rafflecopter giveaway
I am off for some traveling, but will be back with a few more recipes – just in time to finish your holiday meal planning!
Peace and Love,
Jessi
PS All opinions are my own, as always.  I received socks to try out and review, but I was not compensated for this post.