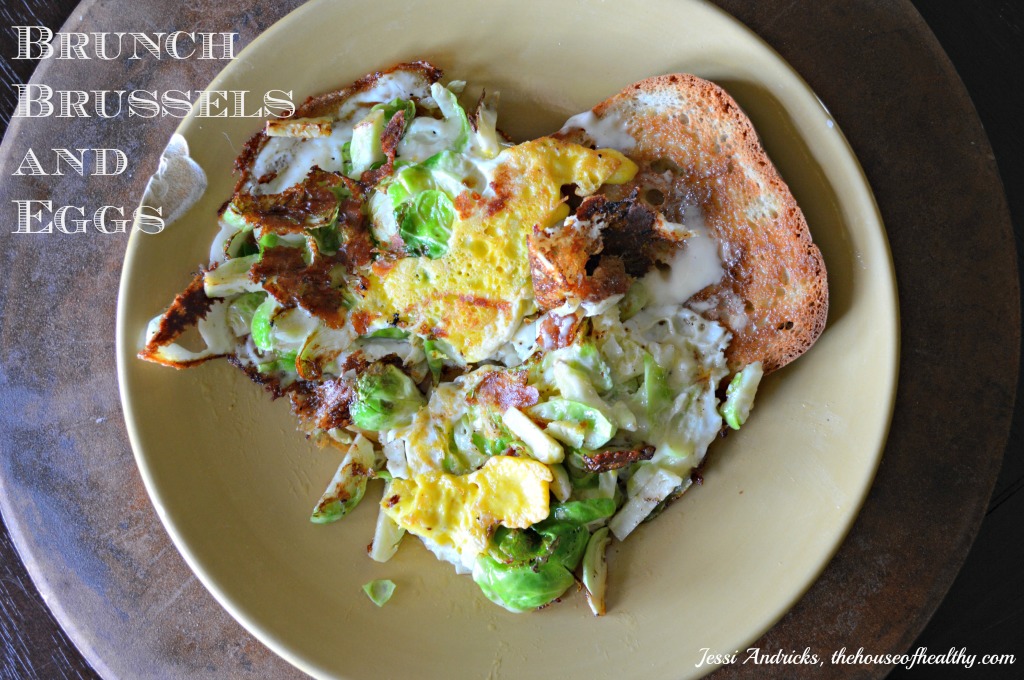 Most Sundays we have brunch of some kind.Sometimes it is intentional, sometimes we just end up realizing we forgot to buy groceries, and other times we get distracted with coffee and being lazy. We often make our own brunch, since there haven't been many places near us to choose from, unless we drove down into Charleston. But with the drive and the wait times, it easily turns brunch into a late lunch.
Luckily, a few of the Charleston restaurants have been creeping up to our end of the area, and they all have a brunch menu. Since Sunday was a beautiful day, we were celebrating the Hubs birthday, and I had a cold that made cooking seem impossible, we headed out for our brunch. It was one of the quickest brunch meal I've ever had (no wait, great food, and the meal was ready in a flash), and they had quite a few veggies options. It turned into a beautiful day, with my cold finally lifting, and we celebrated later on with Birthday dinner, gifts, and a cake.
PS If you ever need frosting, but don't want to make it yourself, Whole Foods sells their frosting in bulk. OMG it is so good and so worth the trip to get it.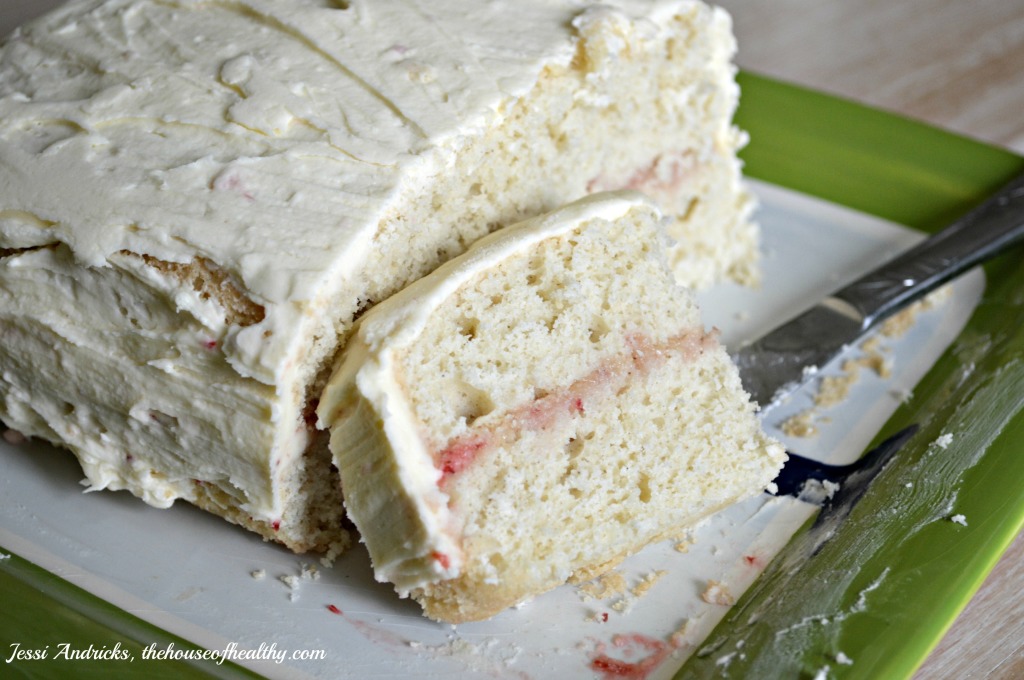 When we do eat at home, we will whip up some gluten free pancakes, some sprouted grain french toast, a pot of oatmeal, or some variation of eggs.One of my favorite egg recipes is to leave out the cheese and excess and add in some bitter or pungent vegetables, such as Brussels sprouts. It also make the eggs much easier to cook, and the messier they are, the better they look. Win-win.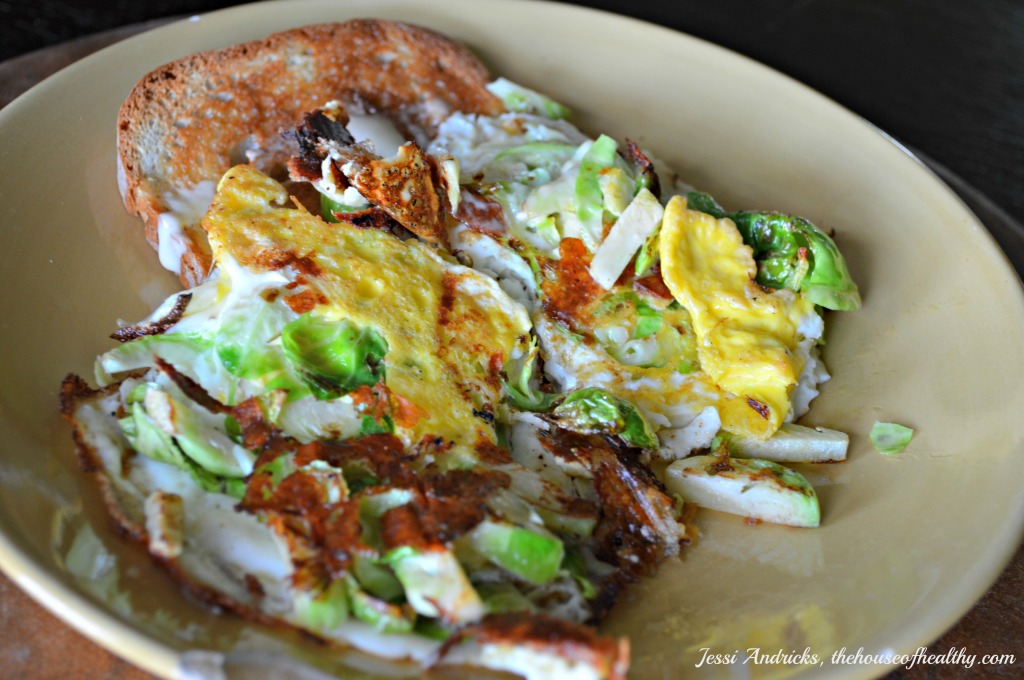 This is really not much of a recipe, but I wanted to share it because it is so very good and quite different than many egg and veggie combos. You simply cook the eggs "over-hard" with the Brussels sprouts chopped within them. A little sea salt and black pepper add a nice little kick and compliment the flavors.

Brunch Recipe: Brussels and Eggs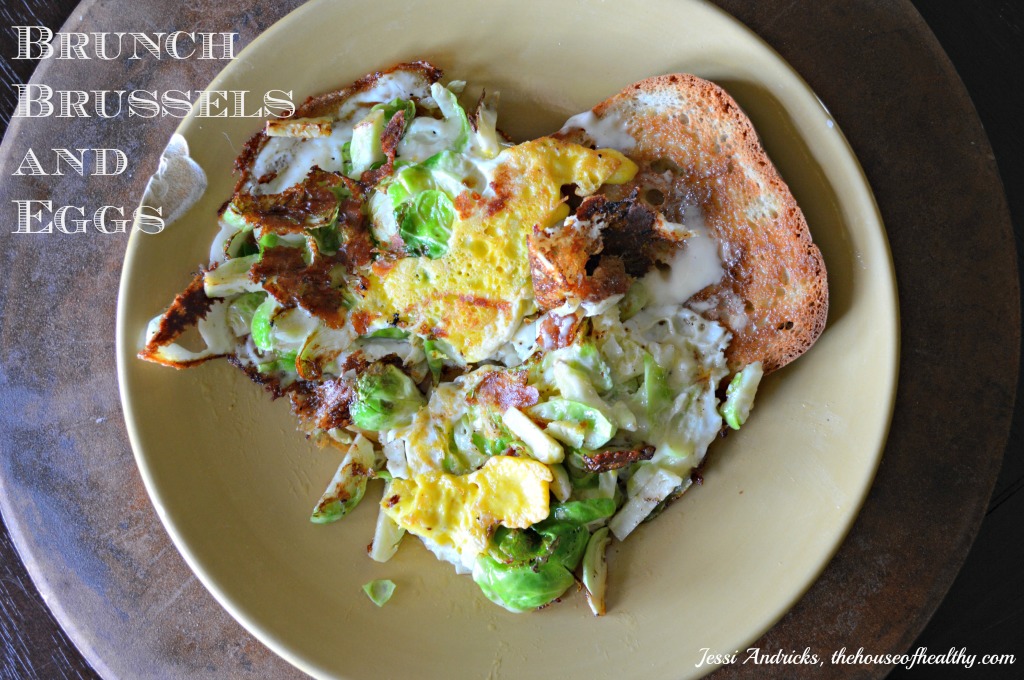 Author:
Jessi Andricks, The House of Healthy
Prep time:
Cook time:
Total time:
Ingredients
2 large eggs
1 cup chopped Brussels sprouts
1 tbsp oil/vegan butter (coconut, olive oil, ghee, earth balance all work)
pinch sea salt and black pepper
Instructions
Heat oil in a medium an over medium-high heat.
Crack you eggs into the pan and allow them to start cooking.
Once the bottoms turn a little white, add in your Brussels sprouts.
Cook for another few minutes until you can flip them. No scrambling necessary.
Carefully flip and allow the eggs and greens to cook more.
Sprinkle on salt and pepper.
What do you like to do for brunch? Stay in or go out?
Peace and Love,
Jessi