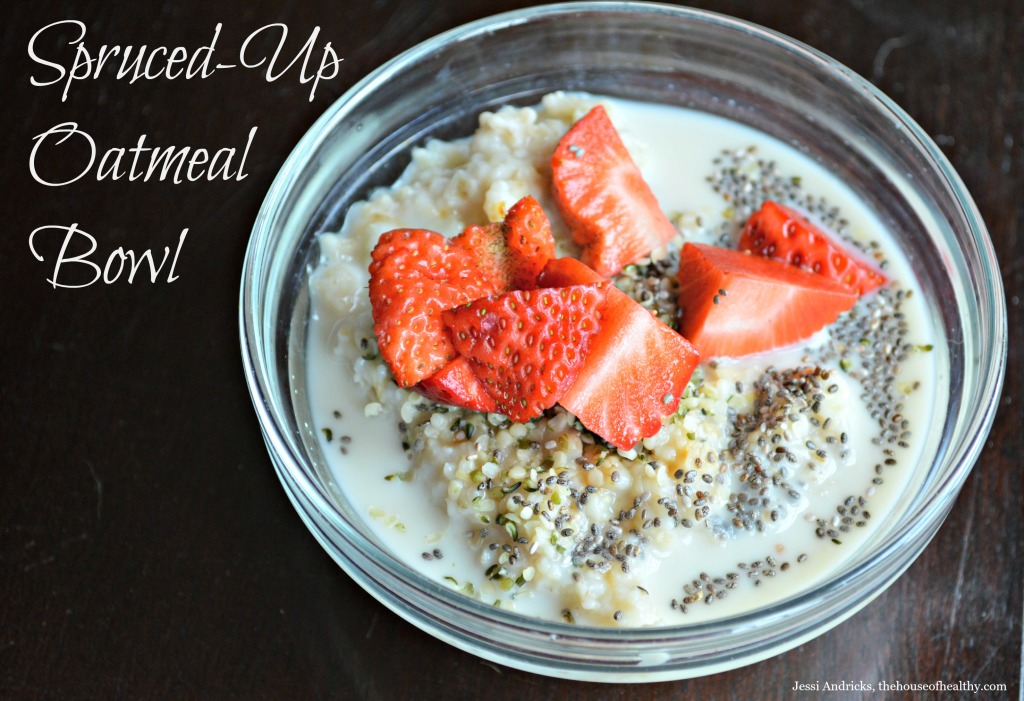 A few weeks ago when we were on our mini-vacation, we booked a couple of nights at a brand new hotel in our town. It was only 5 miles away from our house, which meant we could head home to let the dogs out and feed the animals, but it also meant we would be staying in a new room, with room service, coffee, meals, and no messes to clean up. It was the ultimate relaxation for a few days. 
One of the reasons we decided to stay at the hotel was the lobby. The lobby was both modern and rustic, which made it feel like we had traveled much farther than 5 miles away. It was definitely created for people to lounge around in, grab a drink or a meal, and mingle away from home. In the evenings, we grabbed a glass of wine and played Boggle (yes, we are uber-cool and brought a game with us). We also were able to grab a fantastic breakfast in the lobby.
Rather than the usual hotel lobby buffet, we were able to sit down to a fast but delicious breakfast. We both opted for the oatmeal bowls, which came with milk (I had soy), nuts, dried cranberries, and brown sugar, all portioned separately, so you could add what you wanted. It was perfect, and made even more perfect with the breakfast nook we ate at. The booths had a little curve to them that made them private, as well as a big window for sunshine and a little TV. It was homey, yet ultra-fabulous at the same time.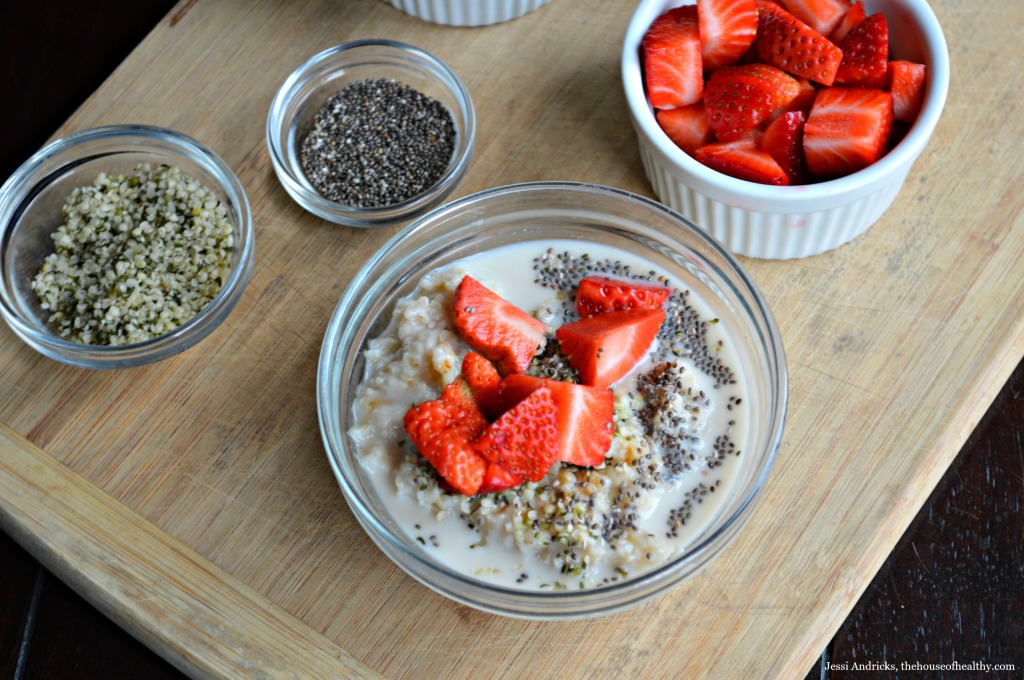 While I couldn't recreate the breakfast nook at home (although I have been Pinterest-ing and dreaming!), I could recreate a version of the oatmeal bowl. I didn't have the nuts, dried fruit or brown sugar on hand, but I did have a few other options on hand – fresh strawberries, chia seeds, coconut sugar and hemp seed hearts. Instead of soymilk, I used almond milk (coconut would work as well). I served it up in small portions, so we could add our own ingredients as desired.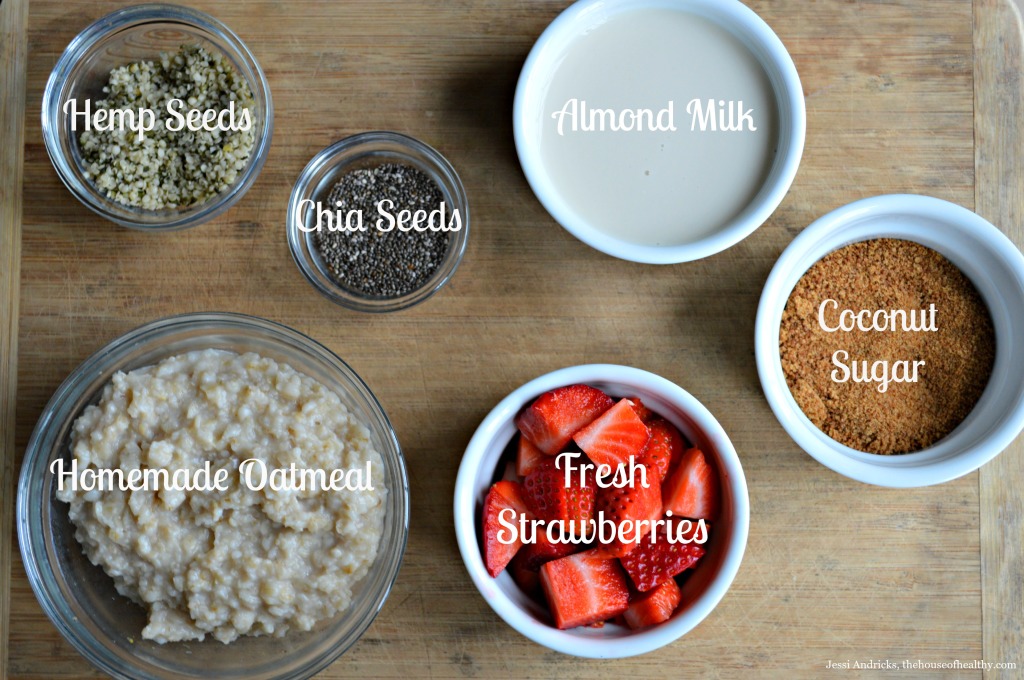 You can follow the recipe to make it with these ingredients or add your own varieties.

Spruce-It-Up Oatmeal Bowl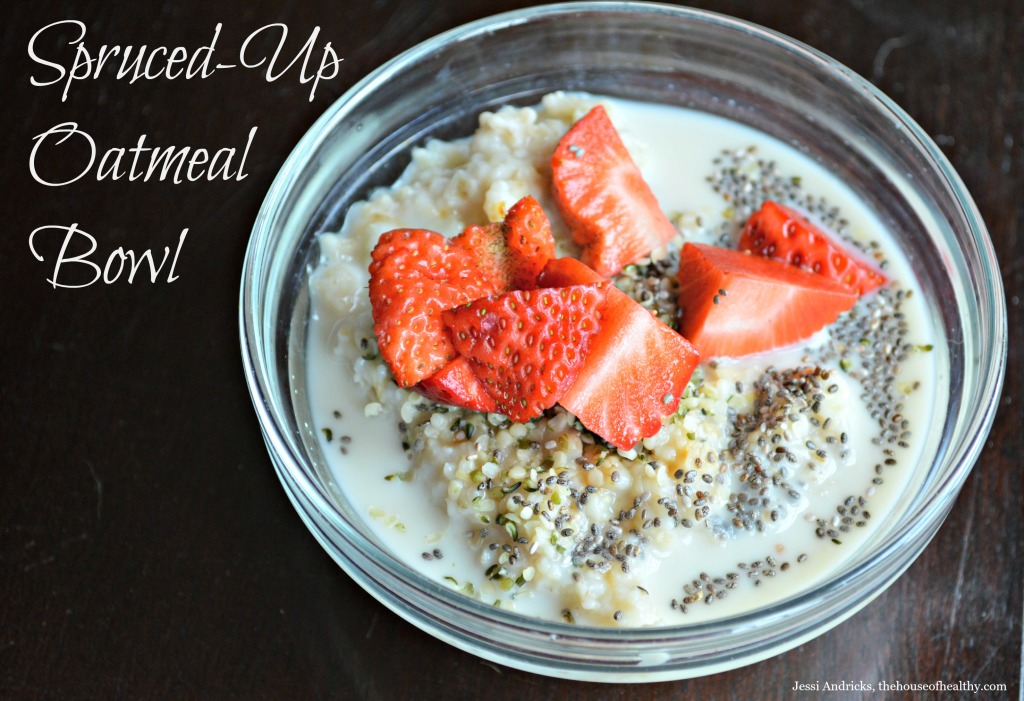 Author:
Jessi Andricks, The House of Healthy
Prep time:
Cook time:
Total time:
Ingredients
1 cup water
½ cup oatmeal (gluten free if needed)
2 tbsp coconut sugar
4 tbsp hemp seeds
2 tbsp chia seeds
½ cup almond milk
1 cup chopped, fresh strawberries
Instructions
Add water and oatmeal to a pot. Bring to a boil and reduce heat to low. Cook for 5 minutes, stirring occasionally.
Chop strawberries into chunks.
Add strawberries, seeds, sugar, and milk into separate dishes for serving.
Scoop oatmeal into two bowls to serve.
Add toppings as desired and enjoy!
 Have you ever planned a "stay-cation"? What was your favorite part to recreate at home?
Peace and Love,
Jessi