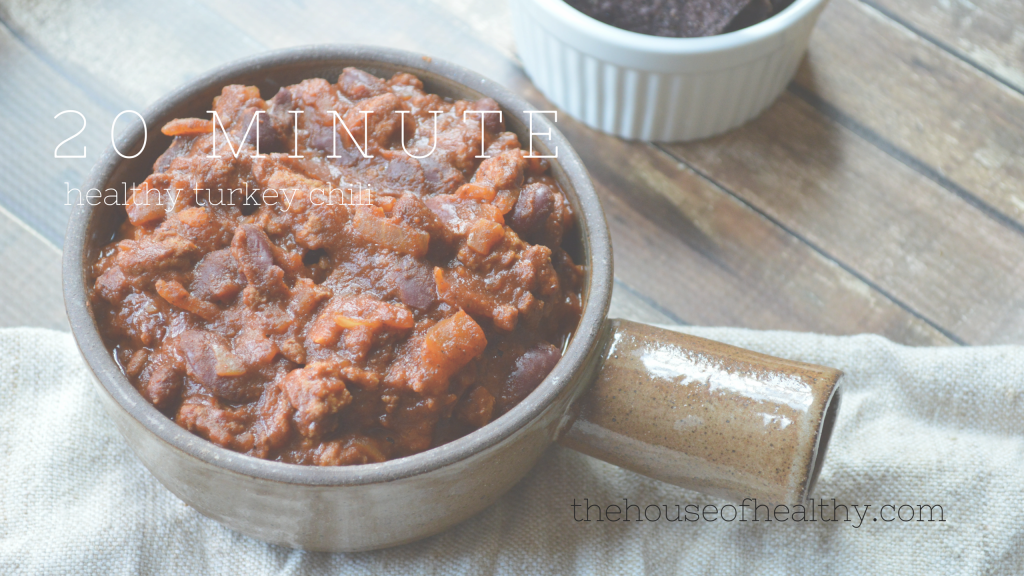 Over Labor Day Weekend, we had a neighborhood potluck and chili cook off. I called my Mom and asked for her chili recipe – the one I used to love when I was in growing up. She was excited, because she was also making her chili for a Labor Day party. I was also busy filming workout videos for the 21 Day Modern Detox, so I only had about 30 minutes to make the chili. I figured I wouldn't have enough time, and she told me not to worry, with 30 minutes, I'd have time to spare. 
When you need a quick and healthy meal, and one that will warm you up as the fall and winter chill hits, this chili is the perfect thing. It is also great to make for football games, tailgating, and all things chilly, outdoors, and Fall. 
This chili is made even more healthy by using (organic) lean, turkey. Turkey is high in protein, but low in saturated fat. It is also less greasy and oily than other meats, so it works perfectly in a healthier chili.
You'll also add a few kidney beans, but not too many. Many people (including myself) can handle some beans, but a full beans chili causes stomach pains, gas, and indigestion. For some people, breaking down beans is hard on their digestive tract. This chili balances out the beans with meat, so you have a digestive friendly chili. Red Kidney Beans are a fantastic source of protein and fiber, as well as being high in iron – something turkey lacks.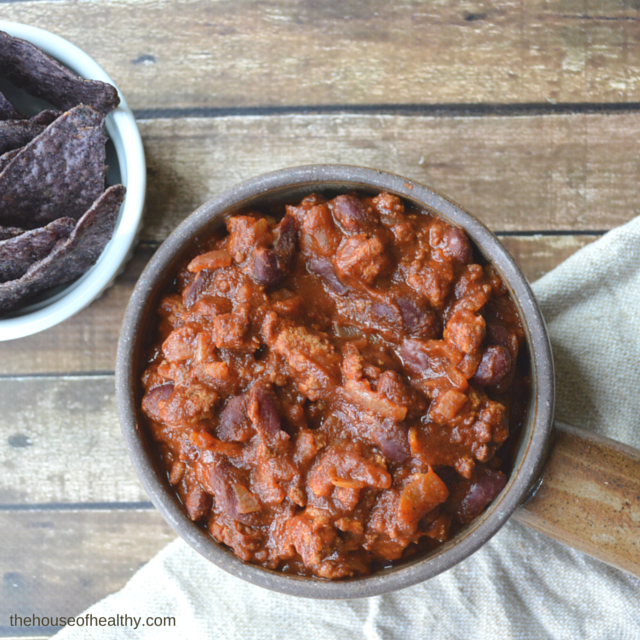 20 Minute Turkey Chili
1 lb lean ground turkey breast
1/2 yellow onion
1 tbsp olive oil
4 tbsp chili powder (or more to taste)
2 packets onion soup mix (use organic or the least ingredients as possible)
2 cans red kidney beans
1-2 large  (15 oz) cans tomato sauce
1-2 cups water or chicken broth as needed
**Use organic and/or local with all ingredients when possible for the healthiest recipe
In a large pot or skillet (I used a dutch oven) add olive oil over medium-high heat. Add in your chopped onions and cook for 2 minutes until translucent, but not brown. Add in your turkey and brown slightly. Your turkey will continue to cook as you add in the other ingredients, so it is ok if it is not completely browned before you add in more. In your turkey and beans, add in your onion soup packets. Mix together, adding a 1/4 cup of water if needed. Add in your beans and tomato sauce. Stir in your chili powder, adding more if you like it spicy. You can also add in a dash or two of cayenne pepper, paprika, and/or cumin to play around with spice and flavors.
You should be finished with your chili after about 10-20 minutes, depending on how long it take your turkey to cook You can eat it right away, or simmer it on low until you are ready to eat later.
What is your favorite fall dish?
This is my first meat based recipe on the blog, since going back to eating meat. It was one of my favorite dishes to make before I went vegetarian and vegan, and I am so excited to have it again. I hope you enjoy it!