I received free samples of siggi's yogurt mentioned in this post. By posting this recipe I am entering a recipe contest sponsored by siggi's yogurt and am eligible to win prizes associated with the contest. I was not compensated for my time.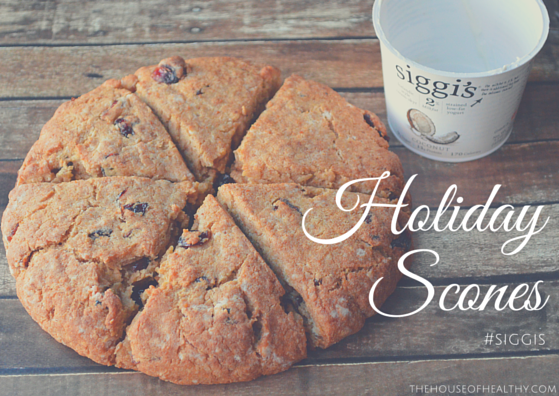 When the holidays approach and the weather starts to cool off, I find myself want ingot bake more and more. While this isn't always a bad thing if I have plenty of people to share it with, it can backfire when it is just the two of us eating an entire tray of cookies, a whole pie, or an entire frosted cake. Most holiday baked goods are far from healthy and can be overloaded with refined sugar, processed flours, and unhealthy fats.
Luckily, there is a simple to make, healthier sweet treat. Cranberry and coconut scones. These scones make the perfect amount are made with the healthiest of ingredients. The cranberries give them a burst of holiday flavor, while the vanilla extract adds a touch of richness. Coconut oil adds healthy fats and coconut sugar helps to keep the scones sweet with a low-glycemic index. The flour is gf, without any additives or chemicals, which is less likely to cause stomach irritation or bloating.
The key ingredient through is the siggi's yogurt. Siggi's yogurt is a rich, thick icelandic yogurt called Skyr, with a thicker but creamier texture than Greek yogurt.
Here are a few reasons why I love it:
More protein, less sugar: all of the containers of siggi's have a note on them that they contain more protein than sugar, unlike the usual brands of yogurt. Even with yogurt flavors, there is still more protein, and a high amount of it, than sugar. The sugar used is organic cane sugar or natural sweetener like agave.
High quality dairy: siggi's uses milk from grass-fed cows to insure the quality of the milk. There are no added hormones, anti-biotics, or anything else icky in the milk they use.
High quality ingredients: Besides the sugar and dairy, there are very minimal ingredients. There might be a bit of fruit, but no gums or starches to thicken the yogurt.
I can eat it: With a touch of lactose intolerance, I have a hard time digesting dairy, even yogurt. Siggi's makes such high quality that I can eat it once or twice a day with no difficulty. Ant with all the fantastic flavors, like pumpkin spice, lingnonberry, and coconut, it makes the perfect snack.
In these scones, the yogurt is used to replace a large amount of oil and eggs, while leaving it moist and sweet.
Cranberry and Coconut Scone: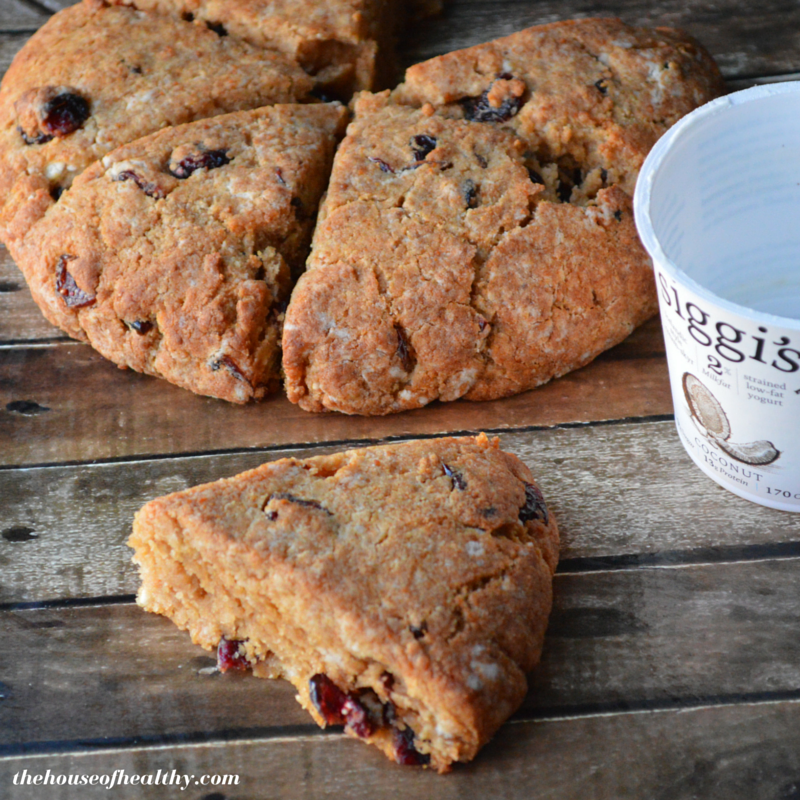 Makes 6 scones
1 1/3 cup gf flour
1/2 cup siggi's coconut yogurt
6 tbsp coconut oil
1 tsp baking powder
1 tsp baking soda
1/3 cup coconut sugar
1 tsp pure vanilla extract
1/4 tsp salt
1/3 cup dried cranberries
Preheat oven to 400 degrees. Whisk together flour, baking powder, baking soda, and salt. Add in coconut oil and mix together until the flour becomes crumbly. Mix in sugar and vanilla and combine. Stir in yogurt  and cranberries until almost combined together. Knead with your hands until the dough forms a ball. Press into a 6-8 inch circle, about 1 inch thick. Sprinkle with coconut sugar and thin layer of coconut oil. Slice into 6 triangles/wedges. Bake for 20 minutes.
Allow to cool before serving. Slice more if needed (the slices can "grow" together a bit when baking) and serve with your favorite tea or coffee.
These scones make the perfect holiday breakfast for all your family and friends, or the perfect afternoon snack with coffee or tea.
Enjoy!