One of my favorite surprisingly delicious smoothie recipes is for a tahini and date smoothie. It sounds a little odd, but it is perfectly thick and rich, with almost a shake-like quality. And the flavor blows me away every time.
So what is tahini, exactly?
Tahini is similar to nut betters, such as almond butter, but instead of being made of blended and ground nuts, it is made of blended sesame seeds. These sesame seeds are blended and pulverized until they release oil and move from a flour-like texture to a creamy, smooth consistency.
Sesame seeds and tahini are very beneficial for your health. Here are a few ways tahini and sesame seeds can help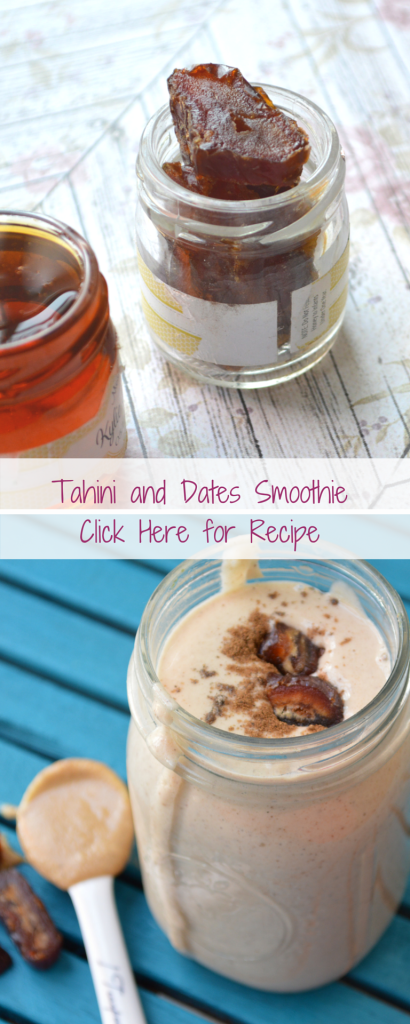 keep you healthy:
Tahini is generally used in hummus, or perhaps a salad dressing, but usually that's as far as we go with it. But, just like other nut and seed butters, it makes a creamy, thick addition to your smoothie. It is especially good when blended with nut milk, warm spices, and naturally sweet dates.
Decadent Tahini and Date Smoothie:
Makes 1 serving
1/4 cup tahini
1 frozen banana
1 1/2 cup cashew (or almond) milk, unsweetened
5 dates, pitted
1/4 tsp nutmeg
1/2 tsp cinnamon
Add all ingredients to your high speed blender and blend until smooth and thick.
Serve this one for breakfast, a hearty snack, or a sippable dessert.
If you want this recipe and more exciting smoothie recipes, make sure to check out the sample of my upcoming book, The Smoothie Life,  available in the subscriber's only Resource Library. If you aren't already subscribed, sign up by clicking below.

Enjoy!

PS The Modern Detox Program launches again in January. Want a little more insider information? Check out all the details (including bonus offers and sign up) here. Plus, find even more Modern Detox-Friendly Recipes (including this one!) on the new page Modern Detox Recipes.