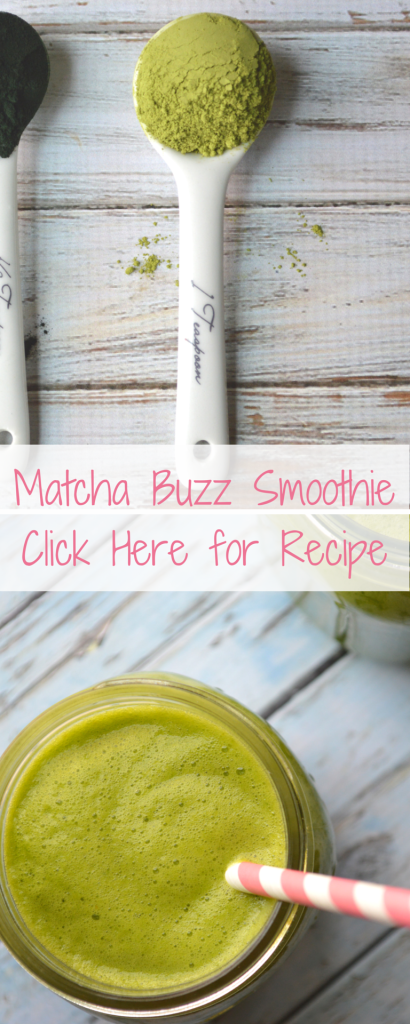 If you head to a coffee shop, or even smoothie shop, you are bound to run into some form of matcha latte, tea or even smoothie. Matcha is a powder made form green tea that is high in anti-oxidants and in caffeine, that has a slightly earthy taste. The caffeine in matcha is more balanced than caffeine from coffee or soda, so it causes less jitters, crashes, and irritability. It is also super high in antioxidants, which help fight free radical cells that cause cancer and diseases, making it a superfood. It works well in creamy lattes, served plain with just hot water or even in your favorite green smoothie.
The slightly earthy, mellow taste of Matcha pairs well with a vegetable-based green smoothie. It is also green in color, so it adds to the natural green coloring of the blended vegetables. Because it is not as irritating to your digestion as coffee, but is still high in caffeine, many people are starting to use more and more of this as their daily caffeine boost. As with most tea, the caffeine boost doesn't cause as much of a crash, so you don't feel the drop when it wears off. Adding it to your smoothie is the perfect way to start your day. You'll get a little extra kick, but also want to keep it green and healthy. And since your smoothie and caffeine are together, it is also a time-saver.
Matcha Benefits:
Less caffeine than coffee
More caffeine than black tea
High in anti-oxidants
Great in smoothies, lattes, tea and baking
For a healthy and caffeinated (without the irritation and jitters of coffee) start to your day, try this matcha smoothie.
Matcha Buzz Smoothie: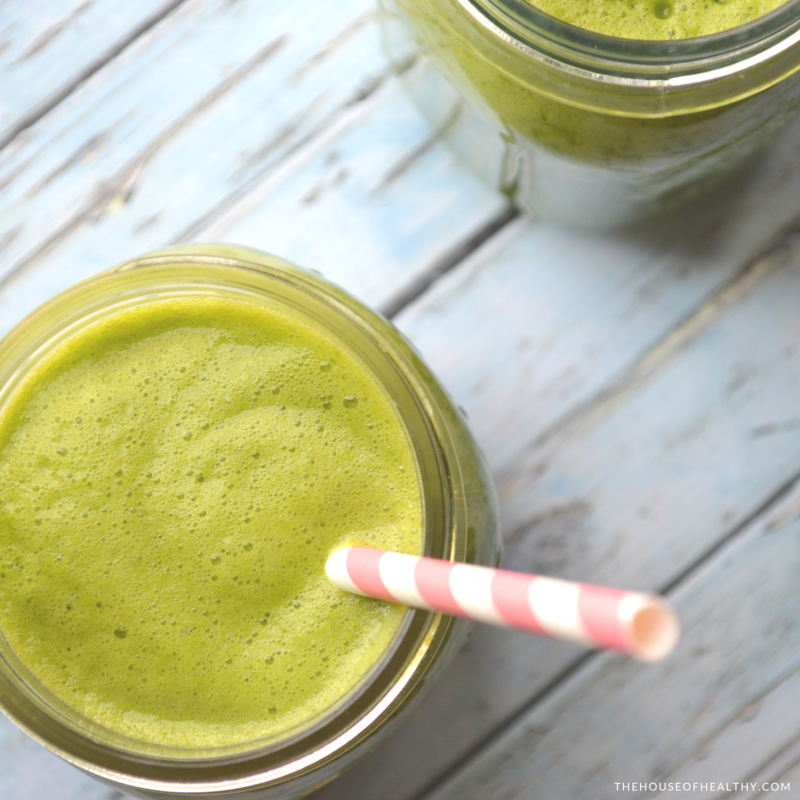 Makes 1 serving
1 cup kale
1 small cucumber
1 celery stalk
¼ cup sweet peas, raw
1 frozen banana
1 tsp matcha green tea powder
1 handful ice
Add all ingredients to your blender and blend until smooth.
Getting more greens and nutrients into your diet can be fun and super flavorful when you know which ingredients to add, which blend well together and which offer the most nutritional punch per sip. 
For this and other green, fruity and, indulgent smoothie recipes, make sure to check out The Smoothie Life Book and Bonus Bundle, as well as download your free 25+ page sample.

Enjoy!

*Excerpt and recipe adapted from The Smoothie Life used with permission from author and publisher, Jessi Andricks. The Smoothie Life is available on Amazon. Not to be replicated or used without permission.