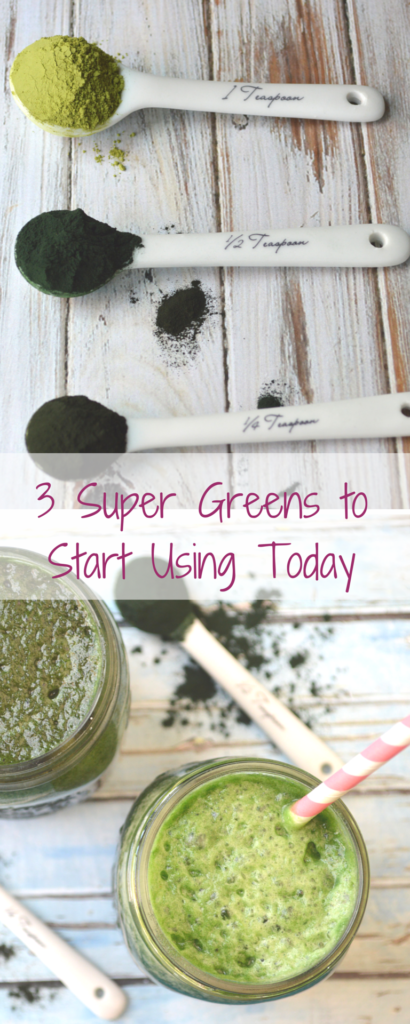 Greens, especially leafy greens like kale and spinach, are often seen as the super stars of the health world. This is because they contain high amounts of nutrients per bite, more than most other foods, and because their rich, green coloring means tons of detoxifying and energizing enzymes, anti-oxidants and even phytonutrients that your body needs to thrive.
But leafy greens aren't the only greens that are good for you, In fact, there are a few others, known as super greens, that are often overlooked, but are super beneficial to your diet. These greens come in powdered forms, sometimes made into capsules or tablets, that can be used as supplements or added into drinks, teas, smoothies, and even foods.
While there are a few of these greens, three of the best to use, and most common, are spirulina, chlorella and matcha.
Chlorella is a green algae, loaded with detoxifying and purifying chlorophyll. It can commonly be found in a powdered or capsule form. Spirulina is a blue-green algae. It has a deep, dark color and is often found in powdered or tablet form. Matcha is a pure green tea powder that is used in many traditional teas and healing drinks, since it contains so many anti-oxidants and a bit of caffeine. It is found in the powdered form.
Here is a break down of some of the benefits of these super greens:
anti-oxidants
fiber + protein
alkalizing (reduces inflammation)
essential fatty acids
protein
b vitamins
iron
alkalizing
These super greens can be added into your daily diet in a simple way – by blending them into your smoothies. They can take your regular green smoothie from incredibly healthy to healthier than you can imagine.
Here are two smoothies to try:
Greenest Greens Smoothie
Spirulina and chlorella are two of the greenest greens you can add to your smoothie. In fact, they are so green, they are actually a deep, dark blue-green color. While they are not leafy greens, such as kale or spinach, they are actually blue-green algae that contain high amounts of anti-oxidants, plant protein, and micronutrients from their deep, rich color. This smoothie pairs the deep green with kale, for even more nutritional power, and lightens it up with peaches, mango, banana, and grapefruit. It is a fresh, green tasting smoothie that blends easily.
Ingredients:
1 tbsp spirulina powder
1 tsp chlorella powder
1 cup kale
1 peach
½ cup frozen mango
¼ grapefruit
1 frozen banana
2 cups water
3 ice cubes
Directions: Add all ingredients to your blender and blend until smooth.
Mega-Green Smoothie
For an extra dose or two of green goodness, you can add green superfoods, such as chlorella and matcha, to your regular smoothie blend. This Mega-Green smoothie is made with kale, spinach, and several other green vegetables, sweetened with fresh pineapple and frozen mango, and made even more green with both chlorella and matcha powder. It's perfect anytime you need an extra green boost.
Ingredients
1 tsp chlorella
1 tsp matcha
½ cup kale
½ cup spinach
1 celery stalk
½ cucumber
1 cup pineapple
¼ cup frozen mango
Directions: Add all ingredients to your blender and blend until smooth.
Try adding one or three of these to your daily smoothie rotation for even more healthy green benefits. If you are ready to try your hand at adding some of these super green powders into your daily routine, make sure to download the Super Greens for Super Health Guide, featuring 3 different uses for these wonderful green powders. Click below to grab your guide.

Enjoy!

*Adapted from The Smoothie Life: 75+ Plant-Based Recipes, Tips and More for a Deliciously Healthy Life from CreateSpace Independent Publishing Platform April 2016. Recipes used with permission from The Smoothie Life author, Jessi Andricks.