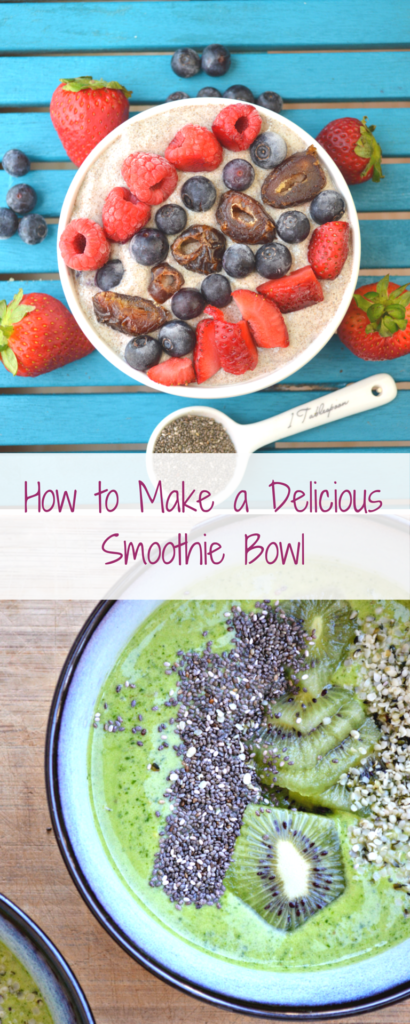 Smoothies are one of the most popular food items around, gaining more and more popularity each day. There are meal replacement smoothies, snack smoothies, super healthy smoothies and some that are really just milkshakes.
There is also a newcomer to the smoothie world that is gaining even more popularity and press than your average smoothie. It is because this one is unlike the others, in that you pour it into a bowl and eat it with a spoon.
It's called a Smoothie Bowl.
What is a smoothie bowl
Check your favorite health foodie blog of Instagram feed and you are bound to see a smoothie bowl or two. A smoothie bowl is a smoothie that you can eat with a spoon, rather than sip through a straw. It is made the same way as a smoothie, only a little bit thicker, and can have added toppings and ingredients you might not normally be able to blend into your smoothie.
What can you put in a smoothie bowl
You can put anything into a smoothie bowl that you would put into a regular smoothie. The trick is to add a little less liquid, or a little more frozen and thick ingredients, so your smoothie becomes spoonable, rather than sippable. You can also add toppings that you might not normally blend, or that you would normally use on a bowl of granola or yogurt. Things like seeds, nuts, fresh berries, banana slices, and dates work well as toppings.
Why are they so great
Smoothie bowls are so great and so popular because they are so very versatile. They don't require a super duty blender to power through strong ingredients like nuts and seeds, since your base is usually pretty simple. You can save these items for toppings that give you something to crunch and chew on, which in turns makes you feel a lot more satisfied and full. It adds more options to making your daily smoothie, so you don't get bored form the same recipe each day. You can change the toppings and have a brand new smoothie bowl ready to go, keeping you healthy, energized and interested in making more tomorrow.
Not sure what goes into one? Here is a breakdown on how simple it is to build one:
Gather your favorite smoothies ingredients

Try using one of your favorite smoothie recipes for your first try, or a specific smoothie bowl recipe. That way, you know what ingredients will taste good together and what you'll be happy with.

Grab a few things for toppings

Unlike a regular smoothie, smoothie bowls can have toppings, much like oatmeal. Seeds, nuts, berries, chopped fruits, coconut, or even granola all work well as toppings on your smoothie bowl.

Look for a few thickening items (more frozen fruits or veggies, chia seeds, etc)

You'll want your smoothie to be easy to eat with a spoon, not necessarily easy to sip through a straw. This means you'll want some thicker ingredients. Frozen fruits, especially bananas, are great for a thick, soft serve-like smoothie bowl. Chia seeds, healthy powders (cacao, carob, hemp, etc) and nut butters also help to thicken the texture of your smoothie bowl, so it stays more like an ice cream than a smoothie.

Grab your liquid of choice

Use the same liquid you would use for a smoothie. Non-dairy milks or nut milks, coconut water or even plain water all work well, depending on your ingredients and flavor. You won't use quite as much as usual, to help keep your smoothie bowl thick.
Once you have all of your "smoothie" ingredients, add them to your blender.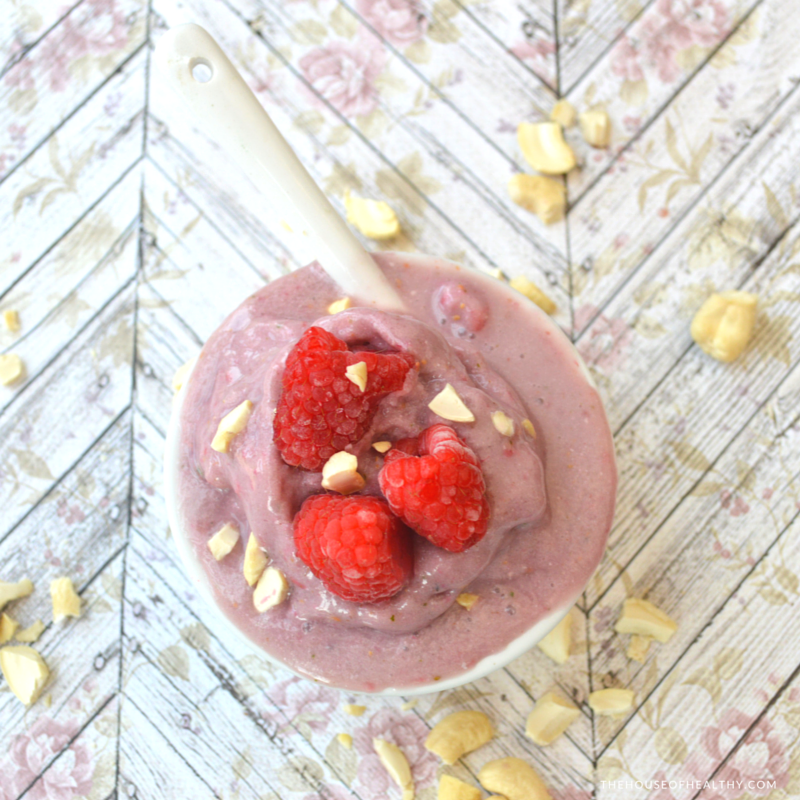 Use liquid sparingly, since you want this pretty thick
Frozen ingredients work best
Chia seeds, powder and nut butters help to thicken it.
You may need to stop your blender and scrape the sides a couple of times since this will be thick.
When it is finished, top with your choice of toppings and serve with a spoon.
They are so simple to make and can add a little more fun, and nutrition, to your morning smoothie routine.
Here is one of my favorites from The Smoothie Life:
Ingredients
Instructions
Add all ingredients to your blender (you can use the smoothie or ice cream setting if you have one) and blend until thick, but smooth. Top with more raspberries, cashews or anything else that sounds good.
Frozen raspberries and coconut milk make this smoothie bowl almost like an ice cream. The bananas thicken it a bit and add sweetness, lending even more to the ice cream quality. The cashews add a bit of protein, as well as a rich tanginess, that pairs perfectly with the tart raspberries. This bowl is a fantastic breakfast on a hot day.
If you love this recipe and want to try more, can join in the upcoming FREE 7-Day Smoothie Challenge, featuring daily recipes, tips, a shopping guide and more. If you are ready to add more smoothies into your daily routine, or just get a few more recipes, sign up below.


Enjoy!