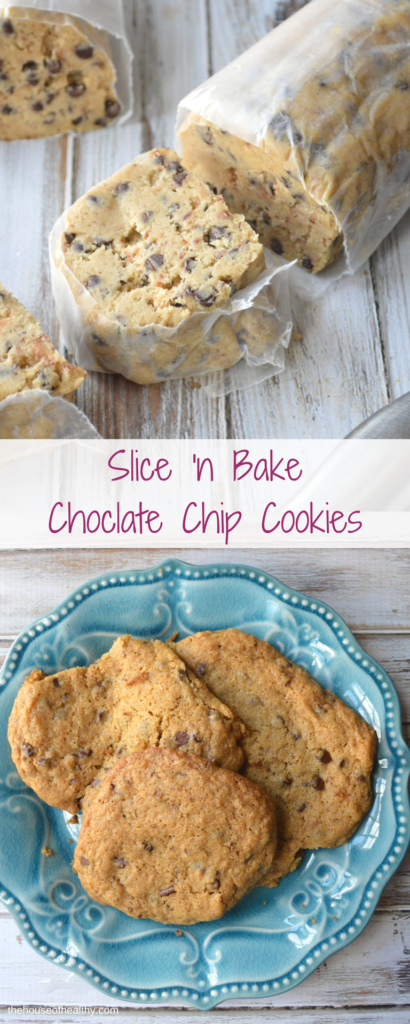 I have become a huge fan of slice 'n bake cookies, ever since trying them out before the Thanksgiving holiday. They are so easy to make and they prevent you from falling into the "I only wanted 2 cookies and now I have 24" problem. It also helps keep you from having froze, freezer burnt cookies taking up room in your freezer, that are never as good as the freshly baked ones were.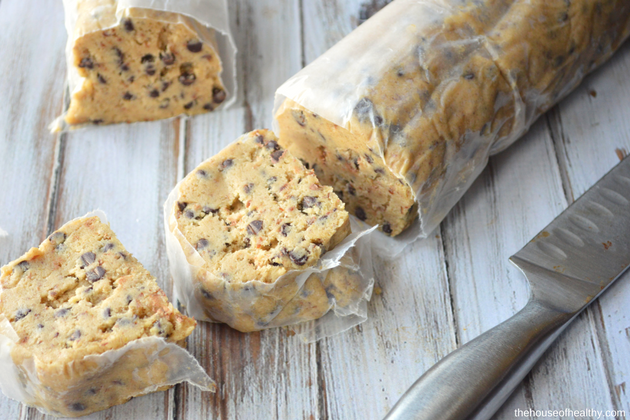 Reasons I love Slice 'n Bake Cookies:
They are easy to make with just about any cookie recipe.
They usually come out better than regular cookie dough, since chilling them helps hold them together.
You can store them in the freezer until you are ready to eat them.
You only slice off as many as you want at that time.
You never run out of cookies (theoretically)
You always have something to bake if you need it – when company drops by unexpectedly, when your kids ask you for some, or maybe when you need your house to smell like freshly baked goods instead of dogs and kids.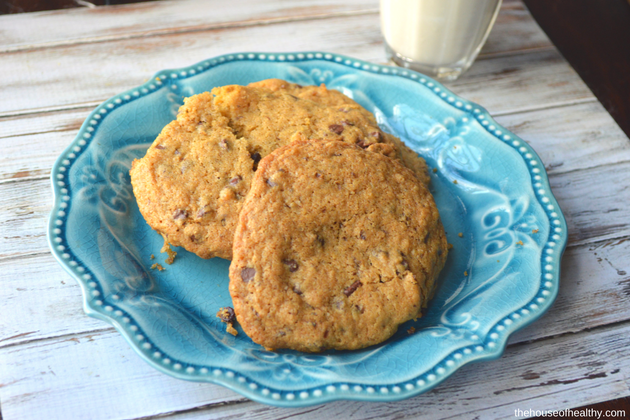 One of the best Slice 'n Bake Cookies are chocolate chip cookies. These are a favorite for most people, are easy to make and can be made even healthier, without anyone knowing any better. I used farm fresh eggs, a gluten-free flour, vegan butter, allergy-friendly chocolate chips and flax seed in mine. I shared them with myself, my husband and anyone who stopped by. No one knew any wiser and no one asked me the usual "So what did you add to these cookies?" question. I call that a win any day.
Slice N Bake Chocolate Chip Cookies
Ingredients
2 cups flour (add a 1/4 cup if using gluten free, I used Bob's Red Mill 1:1)
1 tsp baking soda
1/2 tsp salt (full tsp if using unsalted butter)
1 cup butter, softened (I used Earth Balance vegan butter)
2 tbsp flax seed meal
2 large eggs
1 egg yolk
3/4 cup organic sugar
3/4 cup packed organic brown sugar
2 tsp vanilla extract
1 -2 cups chocolate chips (I use allergy-friendly from Eat for Life)
Instructions
In a large mixing bowl, combine flour, baking soda and salt.
In a separate bowl, mix together butter, sugar and eggs.
Add in brown sugar, vanilla extract and flax seed meal. Mix until combined.
Slowly add in the flour mixture.
Pour in chocolate chips and stir.
Grab a large sheet or parchment or wax paper.
Dump dough onto paper and form into a "log".
Roll up into the paper, twisting the ends closed (like a candy wrapper).
Place in the freezer (I put mine in a freezer bag), until ready to use.
When ready to use, preheat oven to 375 degrees F.
Slice off as many cookies as you would like, as thick as you'd like. I do 1/2 inch to 1 inch thick.
Bake for 12-15 minutes.
Try these in your favorite cookie variety or try playing with the ingredients to find your preference. They are a great way to have a treat on hand, without feeling like you have to indulge in too many. These slice and bake are perfect for portion control and balancing out your diet.
Enjoy!