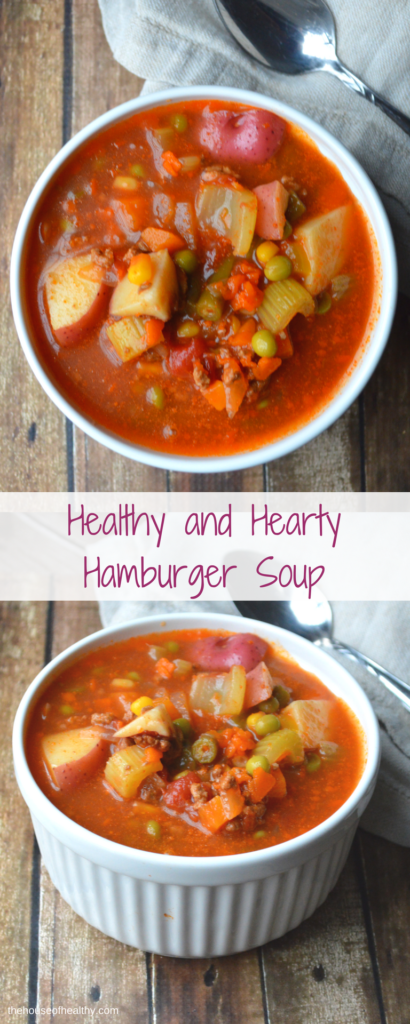 I think I've mentioned this in just about every post lately, but I am always on the lookout for simple, healthy meals that take very little time to prepare. This Hamburger Soup definitely fits the bill and had my family raving when they came to visit.
I love cooking and baking, but I have never been one to spend hours making a single meal. I like to maximize my time. If I spend hours in the kitchen, I want it to be for a big meal prep session that will last me through the week. Most of my meals take around 30 minutes to prepare. If they take more, then they are usually things I can roast or simmer on the stove, while I do other things. Hamburger Soup is one of those meals.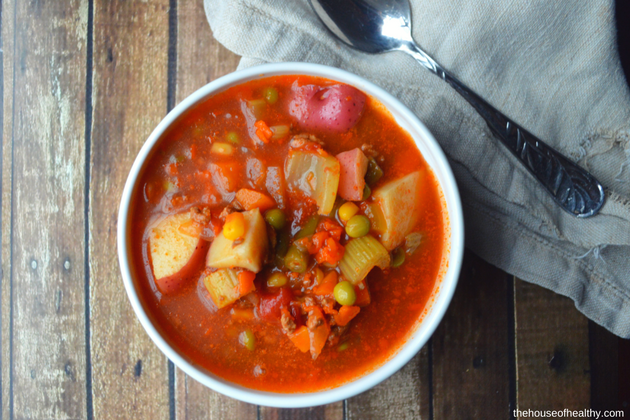 I saw this soup recipe on a show and decided to give it a try. It looked easy enough and, despite the name, was pretty healthy. It does have meat in it, but that doesn't make it unhealthy. I use grass-fed or organic beef when possible, as these have better ratios of healthy fats. It is also loaded with vegetables, and I added even more to make the recipe my own.
I also love that it is a tomato and broth based soup, rather than a creamy soup. Most of my soup recipes are cream based, or include a splash or cream for extra flavor. These soups can also be made more healthy, but I love that this soup is already dairy-free.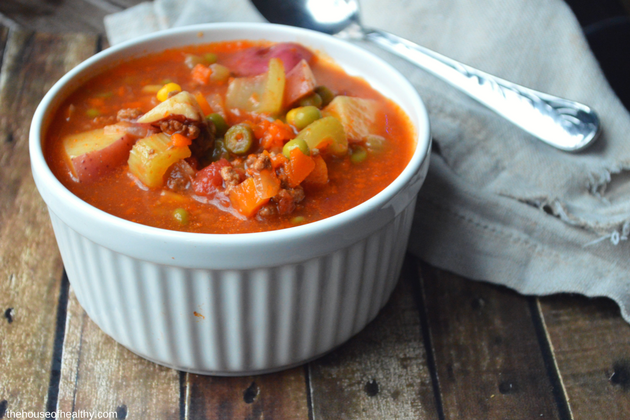 The best part, besides how good it is, is that it is so easy to make. Many of the items are canned or boxed (tomato past, broth) and I use mostly frozen veggies. It comes together in about 20 minutes and is ready to eat, or you can let it simmer for hours on the stove. It also requires just one pot from start to finish, so it saves time on the clean up as well.
Healthy and Hearty Hamburger Soup
Ingredients
1 tbsp olive oil
1 lb ground beef (grass-fed is best)
2 packages frozen mixed vegetables
4 red potatoes, cubed
2 celery stalks, sliced
1/2 yellow onion, chopped
1 garlic cloves, minced or grated
1/4 bell pepper, diced
1 large can whole tomatoes
1 small can tomato paste
2 boxes low sodium beef broth
4 beef (or no-beef) bouillons
1 tsp sea salt
1 tsp black pepper
Instructions
Heat olive oil in a large pot (I used a dutch oven) on medium-high heat.
Add onions, garlic, celery and peppers. Cook 2-3 minutes until the onions start to get translucent.
Add in ground beef and cook until browned.
Pour in your frozen vegetables and stir.
Add your canned whole tomatoes. Squeeze with your hands to release the juices and break apart the large chunks.
Add your tomato paste and broth. Stir.
Add in your bouillons.
Season with salt and pepper and stir.
Let simmer until hot and all vegetables are soft.
Serve immediately, let simmer for a few hours, or store in the fridge for the week.
This makes a huge pot of soup, so you can feed a crowd or have leftovers to refrigerate for the week. It is perfect to make on Sunday for your dinners or lunches throughout the week.
I have an announcement coming next week that I am really excited about. Make sure to sign up for the weekly newsletter so you don't miss out. It will also give you access to some fantastic FREE resources.
Enjoy!