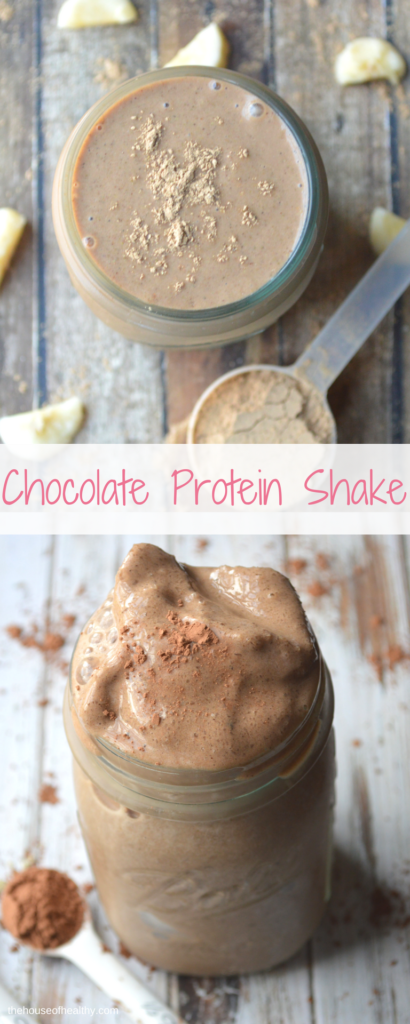 I'm usually not a big fan of protein powders and shakes. As I mentioned in my post about Integrative Health Coaching vs Online Coaching, I prefer to help people, and myself, live a lifestyle that doesn't rely on a specific drink or supplement, like chocolate protein powder, to make it happen. I don't think you should have to subscribe to a certain shake powder or protein supplement to be healthy and to help others get healthy.
But… they sure are convenient to have and can really help you stay full longer, especially when you are short on time.
This past week I have been traveling and living out of a hotel. I am also the mom to a sweet 8 month old baby who has decided to not sleep through the night anymore, after sleeping through the night since week 2. So I am tired, I am in need of some good nutrition and I just don't have the time, energy or resources to make it happen. This is where a protein powder or shake comes in handy.
When I am on the road and away from my kitchen, I can grab it and mix up a quick drink. I might not use it as a meal replacement, but I know it contains tons of nutrients to help me stay healthy, energized and fight off some fatigue. Plus it balances out all the coffee I am consuming.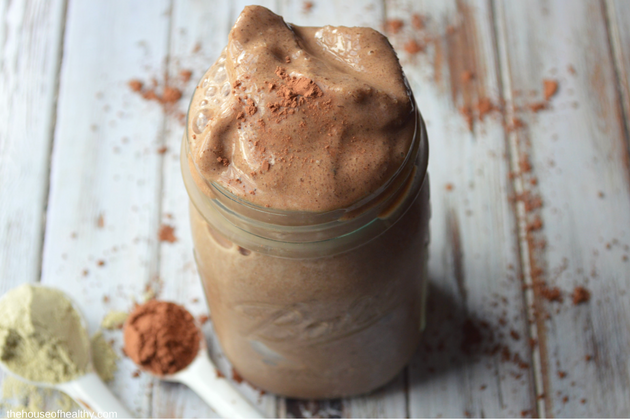 When I am at home, I add chocolate protein powder to my blender, along with a few smoothie ingredients, to make more of a meal smoothie. This way I have a quick meal I can sip while chasing a baby or while heading out the door. I know I am getting my nutrition needs met and the chocolate flavors make me happy.
The trick is to make sure you choose a quality powder. For premade mix, I like to make sure that it contains some superfoods and greens, like Spirulina, chia seeds, flax seeds, coconut, sprouts, etc. I look for vegan and gluten-free when possible, as well as organic. I like chocolate flavored powders, since they taste less sweet and more like a smoothie.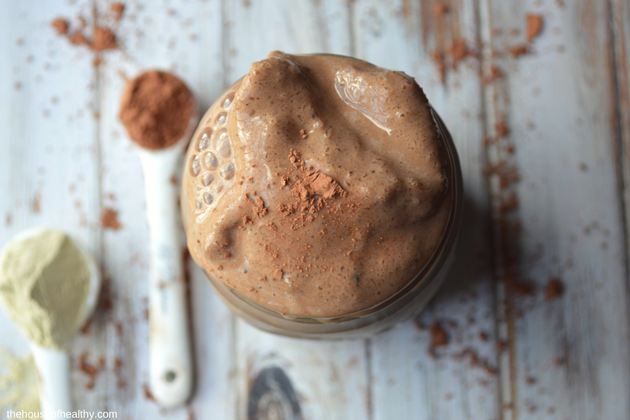 For a homemade version, I choose cacao and hemp protein powder. Both of these are considered "superfoods", because they are full of anti-oxidants, enzymes and nutrients that help your body work at it's best. You can find both in most health stores and even in some grocery stores or the "food" section of discount stores like Marshalls, Home Goods or TJ-Maxx.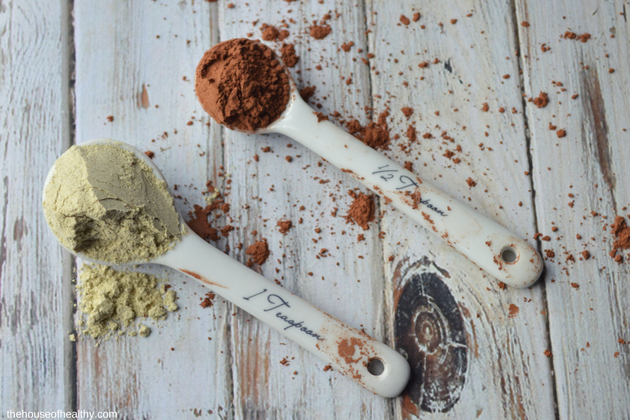 Hemp:
iron rich
omega 3's
plant-based omega 6's
protein
Cacao:
less processed than chocolate
anti-oxidants, enzymes, vitamins, minerals
heart healthy
protein
*Information taken from my book, The Smoothie Life. More details and in depth info available in the book. 
Ingredients
1 scoop chocolate protein powder (I like Viance) or
1 tbsp hemp protein powder and 1 tbsp cacao powder
1 frozen banana
1 tbsp nut butter
1 cup almond milk
optional handful ice cubes
Instructions
Add all ingredients to your blender. Blend until smooth. Use "milkshake" setting for thicker texture.
Enjoy!