This shop has been compensated by Collective Bias, Inc. and its advertiser. All opinions are mine alone. #LuminousWhite #CollectiveBias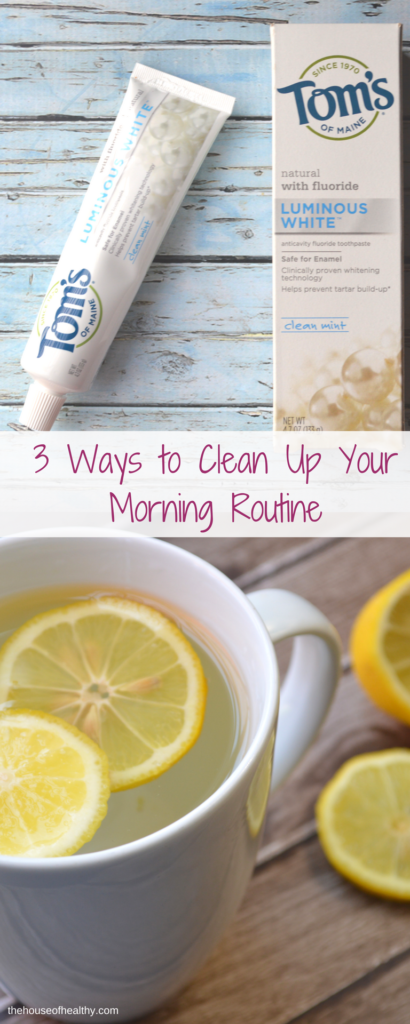 As a health food blogger, I am always looking for healthy, "green" ways to help myself, my clients, and my readers transition into a healthier, toxin-free lifestyle. This includes toxic-free cleaning products, organic and locally grown foods, healthier products and brands, and even more holistic ways of working out and scheduling the day. I started living like this years ago when I was in graduate school, and was often hit with a bit of rebuttal from my peers, co-workers and friends. It was seen as being a bit out of the norm and not recognized as an easy, simply way of living. Health just wasn't as important to most.
Luckily, this has become very mainstream in recent years and is no longer seen as a "hippy" or weird way of living. It is now much more routine and normal to see people shopping locally at Farmer's markets, eating and buying organic and reducing the use of toxic chemicals in everyday products.
This has been spearheaded by things like Earth Month, which has brought more recognition to living a greener, sustainable and healthier lifestyle, and has brought eco-friendly and healthier brands to big name stores, like Walmart. More and more people are choosing to go "green", whether by becoming vegan or vegetarian, using less plastic, paying more attention to the foods they eat or using less chemicals in their personal products and cleaners.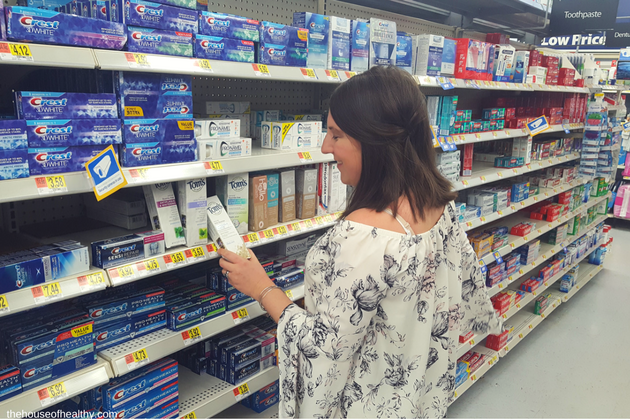 As a person who has suffered with digestive issues and a partner who suffers from migraines, I know that cutting down on chemicals and artificial additives in products is one of the best ways to improve your overall health and wellness. I often buy organic and cut back on artificial ingredients in my food, so that I can better digest them and get more nutrients with each bite. This continues to improve my gut health, banish bloat and give me more energy. I also made the switch in my personal care products to further help improve my overall health and wellness.
Part of this was not only being more "green" in my products, but being more mindful with my day to day lifestyle. Over the past 10 years, I have made it a point to try to ditch the "get up and rush" morning mentality, and swap it for a little more relaxed feeling. This sets me up for a calmer, sustainable day, instead of one that feels frantic, stresses me out and gives me a stomach ache.
To do this, I focus on sleeping enough, eating breakfast, giving myself time to get ready and even a little self-care. Sometimes it is a cup of tea or coffee, a workout or simply knowing I am putting the best things in and on my body.
Here are three simple, healthier ways to start your day:
Warm Lemon Water: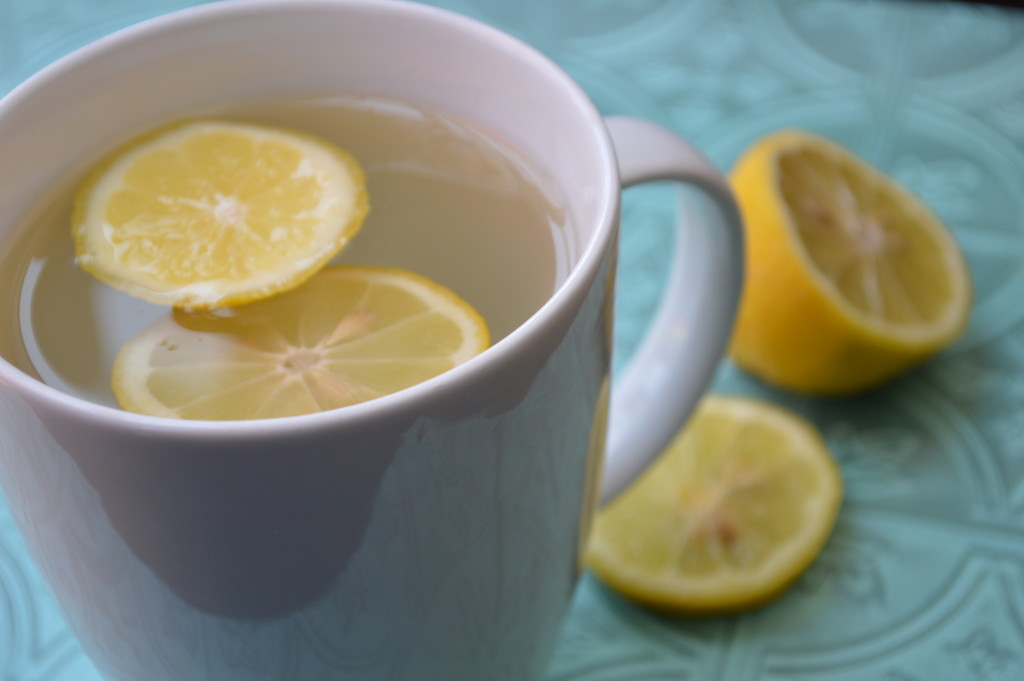 Starting your day with the right breakfast or drink can set the tone for your day. Instead of reaching straight for the caffeine, try a drink that nourishes your body. Adding warm lemon water to your morning routine can help boost your digestion and hydrate you for the morning, especially before a cup of coffee. Simply boil some water, squeeze in some lemon and sip. You can also add spices like ginger and cayenne to boost the digestive aids, honey to enhance the flavor or even turmeric to up the anti-oxidants.
Detox Face Scrub: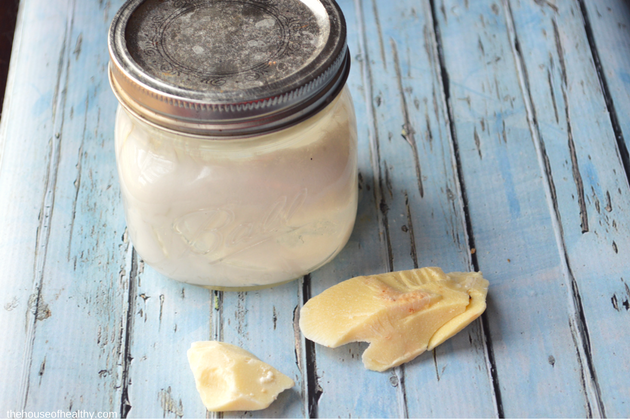 Having a clean face is a great way to wake up and feel fresh for your day especially if you tend to feel groggy in the mornings. Instead of using a face wash loaded with chemicals, you can switch to a more earth-friendly brand, or create a moisturizing wash of your own using a few products you might already have in your home.
Lavender, Tea Tree and/or Peppermint Essential Oil
Coconut Oil
Shea Butter
Cocoa Butter
*optional sugar or salt (to "scrub")
The essential oils are soothing and uplifting to "wake" you up. The coconut oil and shea butter are natural moisturizers and are said to have anti-microbial properties.
Melt equal parts coconut oil, cocoa butter and shea butter in a double boiler. Add them to a mixer (stand or hand) and whip together with a few drops of your favorite essential oil. Once cooled a bit and whipped, add in some sugar or salt if you want to make this a moisturizing "scrub", or leave as is for a creamy cleanser. Store in a cool place in a glass jar. Dab a bit on your face for a moisturizing, healthy wash each morning.
Earth Month Approved Toothpaste: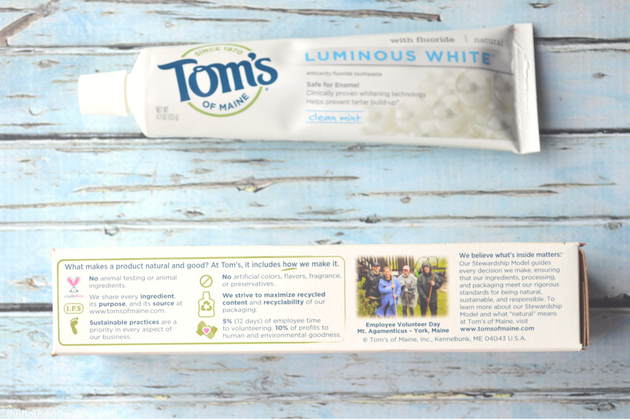 One thing everyone does, no matter how hectic their morning, is brush their teeth. I have been looking for a better way to do this for many years. Regular toothpaste can be full of chemicals that you might not want in your mouth, and making your own toothpaste doesn't always feel effective or taste very good. For this, I like to find a healthier brand that makes eco-friendly, body-friendly toothpaste that I know will clean and brighten my teeth.
My go to is Tom's of Maine "Luminous White™" Toothpaste Clean Mint.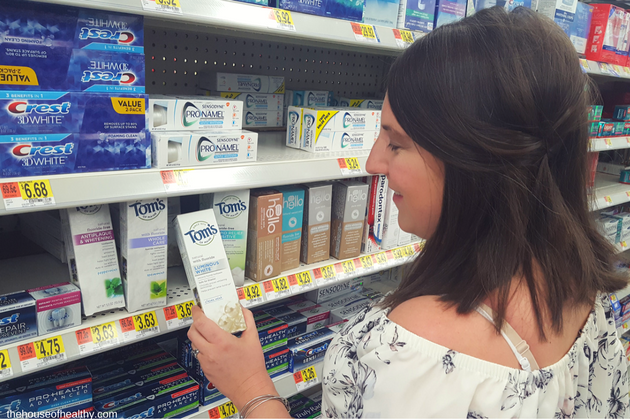 Tom's of Maine is one of the best, most accessible brands for doing just this, and one I have been using in my personal products for years. Tom's of Maine is a better way to clean and whiten your teeth, especially if you are looking to cut out toxins and have more eco-friendly options in your life.
Here are some reasons I love Tom's of Maine "Luminous White™" Toothpaste Clean Mint:
Whiter teeth in 2 weeks*
Safe on Enamel
Safe for Everyday Use
Made up of biodegradable or mineral-derived ingredients
No artificial flavors, colors or preservatives
Gluten free
Luminous White™ is Tom's of Maine's most advanced whitening toothpaste ever.
I picked mine up at my local Walmart. You can grab yours and earn .75 with the purchase of Tom's of Maine® Luminous White Toothpaste. It tastes great and leaves my mouth feeling fresh. It's perfect for a more "green" morning routine.
This Earth Month, make it a plan to start cleaning up your routine, starting with your mornings. You'll have a fresh, bright and healthier start to your day.
Enjoy!

*by removing surface stains vs. regular fluoride toothpaste