With most food, natural is better. No preservatives, no additives, no un-needed sugars, oils, or chemicals. 
But honestly, with peanut butter, I'd rather take the commercial stuff than the natural kind. It's too oily, not quite flavorful enough, and just not my cup of tea. Almond butter – yes please. Natural peanut butter – no way Jose. So I usually do AB and leave the PB behind. 
Until family came to visit and I found my sneaking into the kitchen to steal spoonfuls of the PB the bought 😉 Rich, creamy, smooth, sweet, and delicious PB. With tons of additives ;(
You see, conventional PB is one of my f-a-v-o-r-i-t-e foods to eat, but one that I usually don't buy. Because when I do, I eat a ton of it.
I LOVE it. 
So I thought, what if there could be a better way – what if I could make a natural PB that was as smooth and creamy as the store-bought kind, minus the oily "natural" taste. 
Good news.
It can be done (and then eaten by the spoonful!!)
Coconut oil and coconut sugar give this PB a thick and slightly sweet taste. Coconut oil stays solid at room temperature, so it helps to keep the PB thick, and the low-glycemic coconut sugar sweetens it without spiking your blood sugar.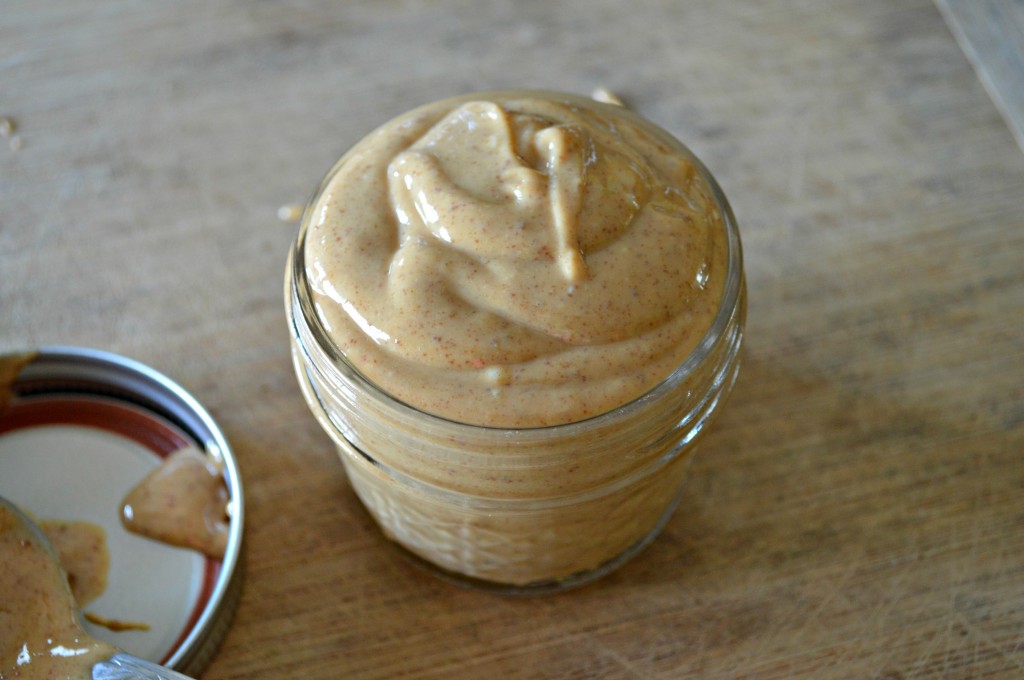 Homemade Coconut Peanut Butter:
Makes approximately a regular sized jar of Peanut Butter. 
1 pound of Peanuts
1 tbsp coconut oil
1 tbsp coconut sugar
1/2 tsp sea salt
Preheat oven to 350 degrees. Place peanuts on a cookie sheet with no extra oil. Roast for 15 minutes, roll them around, and roast for 15 more. 
Add peanuts, oil, sugar, and salt to a high speed blender or food processor. If you have a high speed blender with an attachment to scrape the sides, use that one, otherwise, have a spatula ready to scrape when needed. Blend until completely smooth, depending on your blender it could take anywhere from 5 minutes to about 15 minutes. Stop to scrape the sides whenever needed. 
Once blended, place in a mason jar and store in the refrigerator. This will cool it off and thicken it up to the usual smooth and creamy PB texture. You can also place in smaller jars for more of a "single-serving" size. 
Enjoy on toast, on a PB&J, or simply by the spoonful 😉
What's your favorite way to eat PB? Or do you prefer almond butter?
Peace and Love, 
Jessi