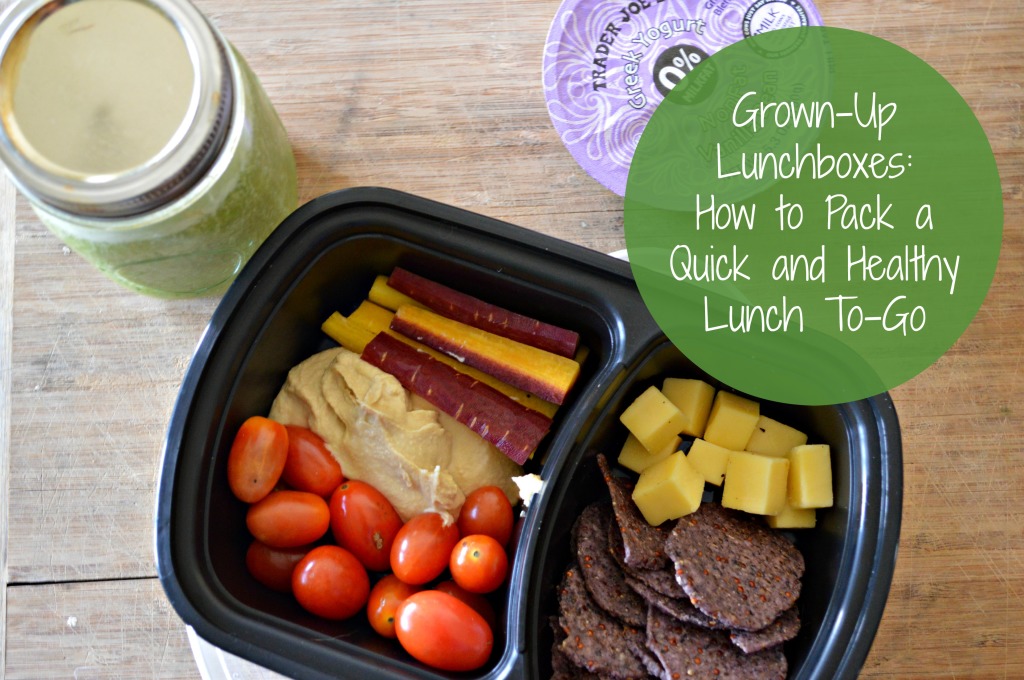 I know, I know, I should be posting a Thanksgiving inspired dish for you – and I promise, those are coming, but there are a few things to do first.
1) I've got a recap of my race coming up soon. I trained for about 2 months and completed the Inaugural Sweet Tea Half Marathon on 11/15/14.
2) I have a few recipes I am tweaking before I share here on the blog, but I will be sharing some of my tried and true holiday recipes on Facebook, so head over there to "like" and "follow" (the button next to like). That way they will show up in your feed and you'll have plenty of recipes to choose from as yo make your list.
3) Over on Instagram, I teased a "Grown-Up" lunch a few weeks ago. And while it is not back to school time, New Years resolution time, or a time when lunch might even be on your mind, it makes it the perfect time to share this non-recipe.
Lunch is my least favorite meal – at least to prepare. I've mentioned this before, but it is still true. I never quite know what to make and am always curious what other people make for lunch – either at home or to take to work. Do they pack a lunch? Bring leftovers? Eat PB&J or dry turkey/ham/cheese on bread sandwiches? Do they go out to eat or skip over the meal completely? (What do you do? Leave it in the comments below!)
I always found that my lunches were a little lackluster when I packed them. Sandwiches seemed soggy, or something smelled funky, or I couldn't heat my leftovers. And many colleagues felt the same way. So while I packed a lunch, they skipped it completely or grabbed a bite from a cafeteria or fast food place.
When my hubby started going to school full-time in the mornings and work full time the rest of the day, I knew that making a lunch would be important:
– It would save money and help us stick to our budget.
– It would be healthier than eating out, especially since vegetarian options are far and few.
– It would guarantee he had food to eat when he didn't have time to stop and buy lunch on a busy day.
So why share now? Because the holidays are when we are the busiest. The year is ending, so most of us are wrapping things up before a vacation or end of year deadline. Our schedules are packed even more with events, festivities, cooking, shopping, visiting, traveling…All of this means that skipping the midday meal might happen more often that you realize.
Grown-Up Lunchboxes to the rescue. These are simple suggestions, you can always switch it up to fit your needs. Just think healthy, simple, and a little bit of indulgence one in awhile, with things you can toss in a container with minimal prep.
1) Start with your container. Find a bento-style "box". These are just containers with a few different compartments, so you can pack different items or flavors and keep them from getting smushed.
2) Produce is key: Choose mostly veggies and fruits to make up your lunch. This will make sure that no matter what else you throw in there, you've got healthy, nutrient dense foods to keep you full, satisfied, and healthy. My favorites to add are carrots, grape tomatoes, broccoli, grapes, and an apple. They are all easy to throw in and require little more than washing and maybe just a tiny chop or two.
3) Dips and Sides: To spice up your produce, add a little healthy dip. You can do hummus if things are mostly veggies or use nut butter for your fruits. Add a little crunch with a multigrain (gluten free) cracker or chip. Keep this minimal, as it is just a little side and something to crunch on. You could also do nuts or seeds (unless you already packed some nut butter). If you eat dairy, you can also try an organic cheese-stick or a few cubes to add to your mix.
4) Add a drink: Bring some kind of healthy liquid with you – no sodas, sports drinks, caffeine shots, or energy drinks. You want something to hydrate and support you, not cause a crash. If you don't have many greens in your lunch, try adding a green juice. Store it in a mason jar to keep it from spilling. Otherwise, a bottle of water is always a sure bet to have with any meal (if you need a little extra something, add lemon or have sparkling water).
4) Sweetness: Candy and cookies aren;t necessary, but sweet flavors are an important flavor to a meal and to helping you feel satisfied. Try a slightly sweet yogurt (if you are not vegan or dairy-intolerant) or a piece of dark chocolate. You can also pack more fruit for sweetness.
5) Pack it up: Grab a tote or bag you can easily carry and store. Pile your ingredients in, bring some utensil if needed, and head on out!
With simple ingredients, you can eat this anywhere lunch happens, although taking a timeout and stepping away from work if the best way to digest and rest before the afternoon this. These are just some suggestions, and our lunches definitely change up a bit from day to day. Add what you like, use whole ingredients, and you are bound to have a healthy, filling lunch that will keep you going through the afternoon.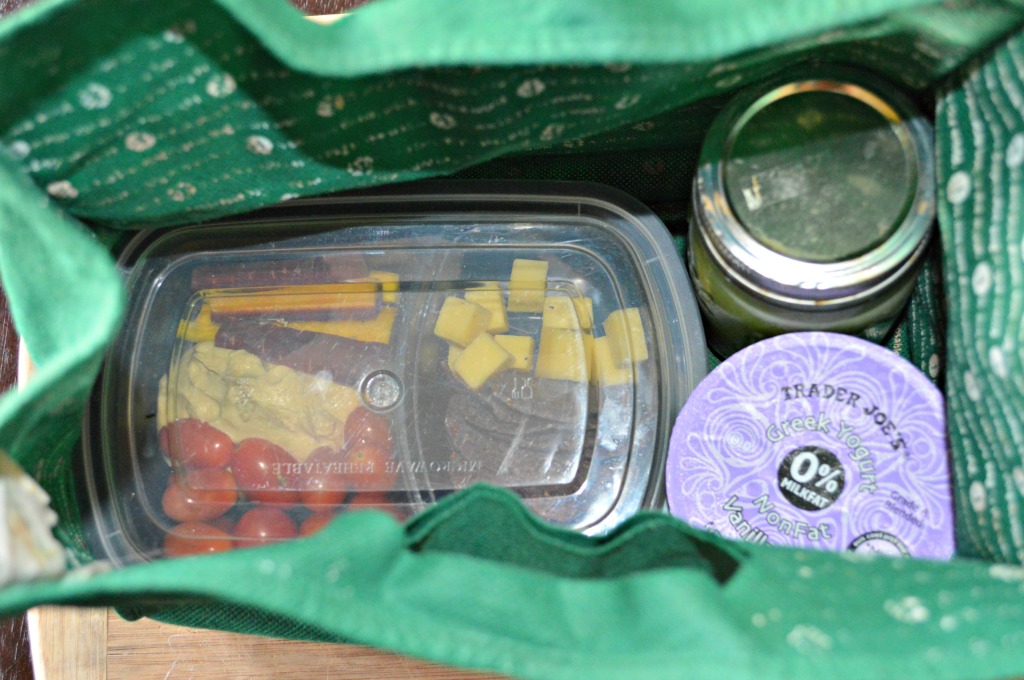 What do you typically do for lunches? Do you enjoy them or groan when its time to eat it?
Peace and Love,
Jessi
PS Less than 2 weeks before the December session of 21 Days to Flourish begins! It quite possibly the busiest time of year, so what better time to have a plan laid out for you for your fitness, food, and self-care timeouts? Sign up today, before you get wrapped up in Thanksgiving planning!