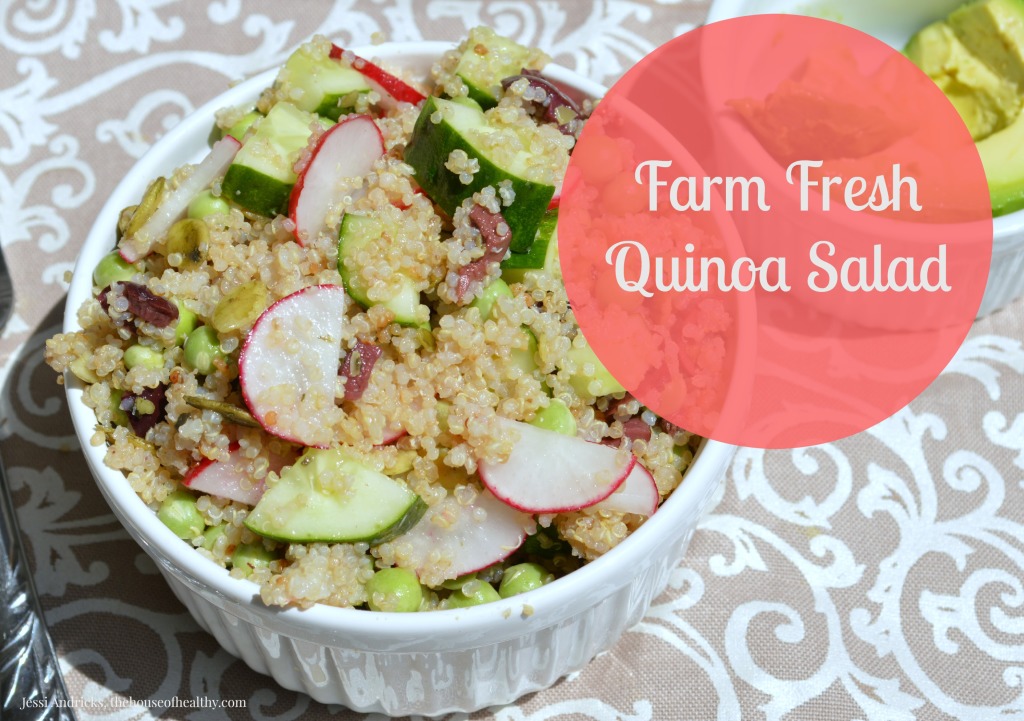 Last week I posted my new plan for grocery shopping as part of my strategy to beat some overwhelm and get healthier this spring. As the weather warm sup, there are so many fresh, delicious varieties of produce available, but it can be hard to know what to buy and what to do with it. When I'm not sure, I usually end up with the same-old-thing week after week. It's no fun for me, and definitely no fun for you 😉
This season, we decided to join a CSA to cut down on cost and time, while giving us fresher produce with much more variety. I hoped it would spark some creativity, and so far, it has!
Each week, I will try to share at least one recipe from my CSA box. If you want to see what I got, follow on Instagram, where I'll post a pic from the box each week. That way you can start guessing at what recipes will be created or perhaps leave a suggestion or two!
For last week's box, I received tons of greens, broccoli, beats, and cabbage. The kale and beets were used in juices and smoothies, and I even added in some broccoli and peas to the mix.
For the radishes, I was lucky enough to stumble upon this quinoa recipe that helped spark a little recipe creativity. Even though the inspiration called for roasted veggies, I decided to keep mine raw, and use a few more salad-like ingredients.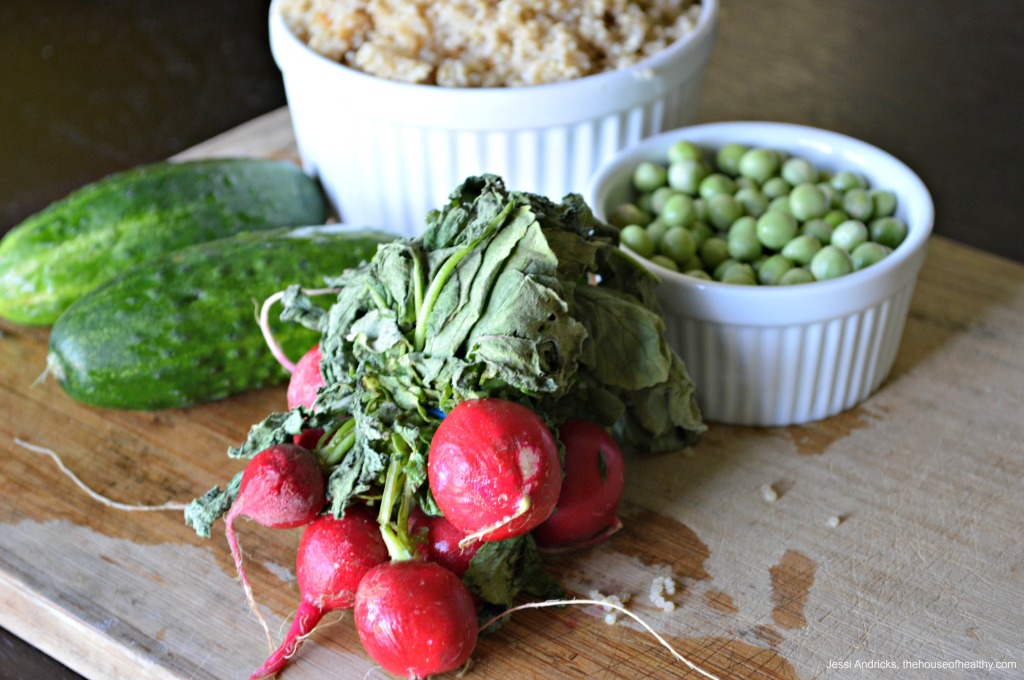 I grabbed the radishes, peas, and some farmers market pickling cucumbers to make a Farm Fresh Quinoa Salad. It is the perfect lettuce-free salad for lunch or dinner, or even works as a side dish to your main course. I ate this for lunch on Friday and it fueled me through my afternoon and evening classes, which says a lot, since I tend to be hungry quite often 😉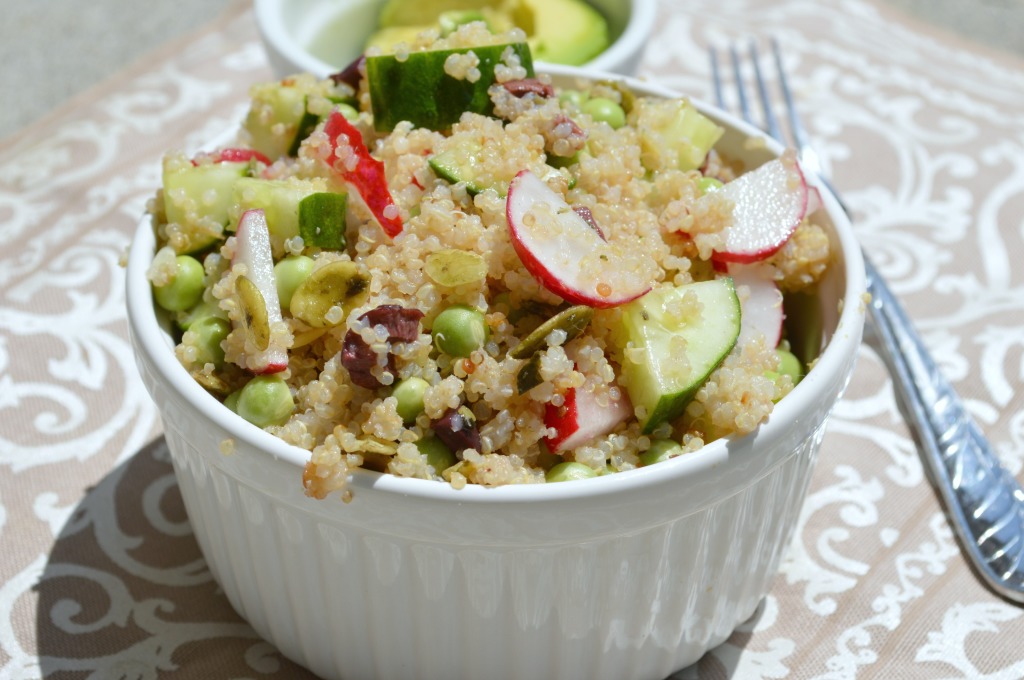 It's packed with greens, a little sweetness and spice, and full of satisfying protein and healthy carbs from the quinoa. Quinoa is one of the only plant-based complete proteins, meaning it contains all the essential amino acids needed to build a strong, sustainable body. And with some flavors and produce, it is quite tasty!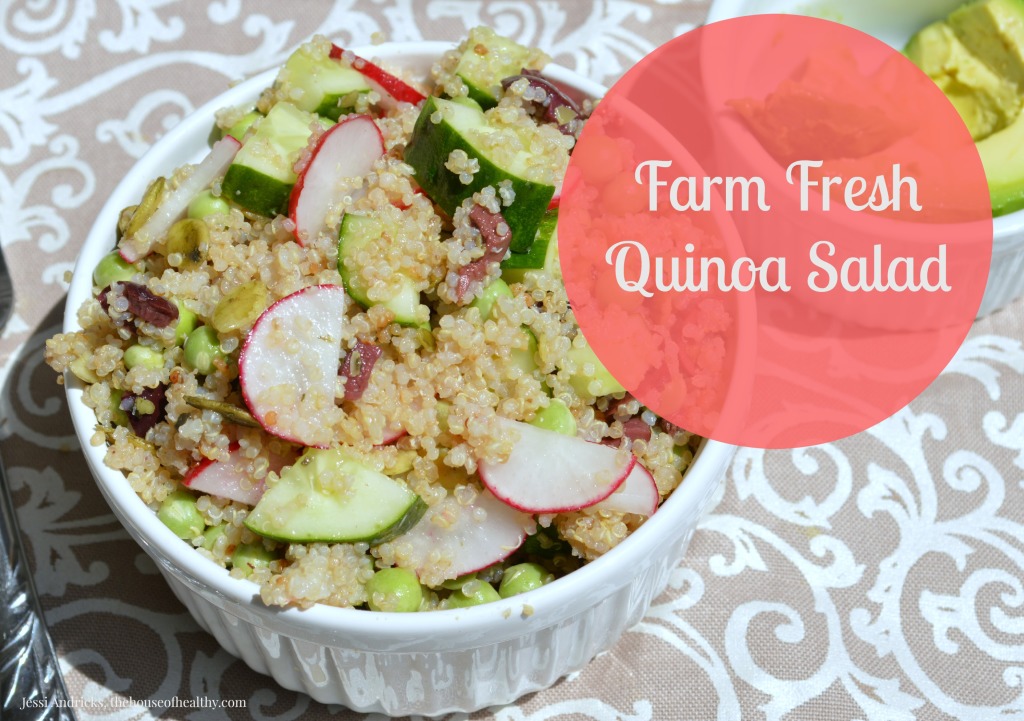 Author:
Jessi Andricks, The House of Healthy
Prep time:
Cook time:
Total time:
Ingredients
2 cups cooked quinoa
2 pickling cucumbers
1 bunch radishes (about 1½ cups sliced)
1 cup sugar peas, raw
2 small or 1 large lemon
1½ tsp apple cider vinegar
1 tsp pure maple syrup
½ tbsp toasted sesame oil
1 tbsp water
sea salt to taste
Instructions
Slice your radishes in thin slices, approximately ¼ inch thick, until you have about 1-2 cups of radishes. I used an entire bunch to add to my bunch
Slice cucumbers in half and then into quarters, and then slice into chucks.
Add quinoa, cucumbers, radishes, and peas into a large bowl.
In a small bowl, whisk together juice from the lemon(s), apple cider vinegar, toasted sesame oil, maple syrup, and sea salt.
Pour over quinoa mixture and stir until dressing and veggies are thoroughly combined.
Store in the refrigerator until ready to serve.
What is your favorite way to use new-to-you ingredients? And if you have any suggestions for what to do with a giant head of cabbage, I'd love to hear about it in the comments below 😉
Don't forget to follow on Instagram to check out my CSA box. I'm about to head out to get it now!
Did you know I actually have 2 Instagram and FB pages, as well as another site?  Be sure to follow along with my other Instagram and FB pages, where I will be hosting a free 21-Day online event starting on Monday, May 4th. You can find all the details here.
Peace and Love,
Jessi