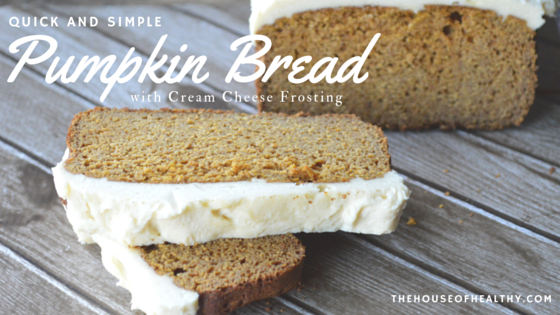 The Holidays have arrived and it is time to start cooking, baking, and sharing recipes, love, and festivities with your friends and family. While some baking can be over the top, time consuming, and quite unhealthy, not all of it has to be. You can indulge a little and still reap some health benefits from your baked goods, all while soaking up the joy and gratitude of the season.
One of the best ways is to try a quick and creative bread recipe. While sandwich bread can be tricky to make at home, breakfast and dessert breads are much easier and often contain a fruit or vegetable that ups the health quotient, such a banana bread, zucchini bread and pumpkin bread.
This recipe pairs the health benefits of pumpkin (including fiber and iron), with an indulgent (but slightly healthier) cream cheese frosting. The pumpkin helps keep the bread moist, even after being in the refrigerator for several days, and the cream cheese frosting is lightly sweetened rather than overloaded with sugar.
Try this for your Thanksgiving brunch, or simply bake it to share with loved ones and enjoy a flavor from the season.
Pumpkin Bread
1 can pumpkin puree
2 tsp vanilla extract
1/2 cup sugar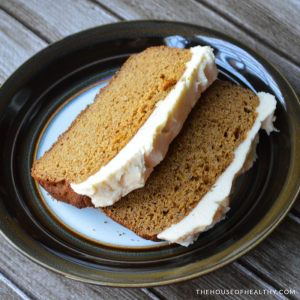 2 eggs
1/2 cup coconut oil
1 tbsp molasses
1 1/2 cup gluten free flour (if not GF, add another 1/4 cup if needed)
1/2 tsp salt
1 tsp baking soda
2 tsp baking powder
1 tsp cinnamon
1/2 tsp ginger
1/4 tsp nutmeg
1/4 tsp cloves
Preheat oven to 350 degrees. In a medium bowl, combine flour, baking soda, baking powder, salt, and spices. Whisk together until mixed well. In a large bowl, mix together eggs, sugar, coconut oil and vanilla. Add in your molasses and pumpkin puree and mix again until combined. Slowly stir in your flour mixture, adding a little at a time until thoroughly mixed.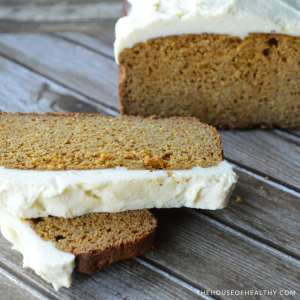 Pour into a greased or parchment paper lined loaf pan. Bake for 50 minutes. Poke with a toothpick. If it comes out dry, you are finished. If it has batter, bake for another 5 minutes and check again. Remove form the oven when ready and allow to cool.
Cream Cheese Frosting
1 package organic cream cheese
1/4 cup coconut oil
3 tbsp organic powdered sugar
While baking, prepare your cream cheese frosting. Add your ingredients to a large boil and beat with a mixer on medium. Whip together until creamy, thick, but spreadable.
Once the pumpkin bread has cooled.  Spread the frosting over the top in a thick layer. Store in the refrigerator, covered, and slice when ready to serve.
Enjoy!