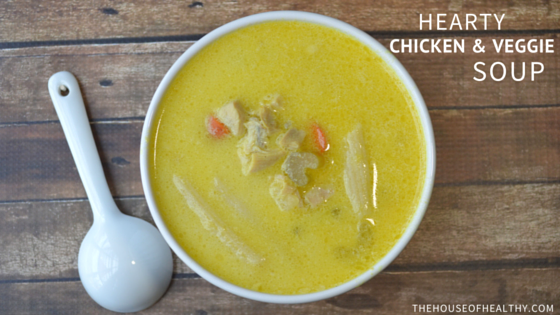 Every once in awhile, I like to share a healthy, non-veggie recipe with you. This one is one of my new favorites and one I am super excited about because it took me a looong time to figure out how to make a really good soup. And once I figured it out, it was easy to make again, and again. 
When the weather cools down, there is nothing I love more than a warm bowl of soup. As much as I love salads and raw veggies, that first cold snap makes me crave warm, cooked veggies, and brothy soups.  And my favorite broth is chicken broth.
Chicken broth is super healthy, since it is made from chicken bones and vegetables, boiled in water. As they boil, the nutrients are pulled out into the water, making a broth. Chicken broth is said to be medicinal, which is probably why it the go-to meal for anyone with the flu or a cold. And when a cold hit me earlier this season, this was the first thing I reached for. It is also full of veggies, making this a hearty and healthy soup.
Hearty Chicken and Veggie Soup:
Makes a ton of soup 🙂
1 lemon
1/4 yellow onion
1 quart water
5 boneless, skinless chicken thighs (a little over a lb)
2 large carrots
2 celery stalks
1/4 yellow onion
1 cup frozen corn
1 cup frozen peas
1 cup uncooked noodles, gluten free (I used brown rice penne noodles)
1 tbsp olive oil
4 chicken bouillon cubes
3 tbsp (vegan) butter, you can also use organic or grass-fed
1/4 cup organic half&half (I used lactose free, organic. You can also use non-dairy cream).
3 quarts low sodium chicken broth
sea salt and black pepper to taste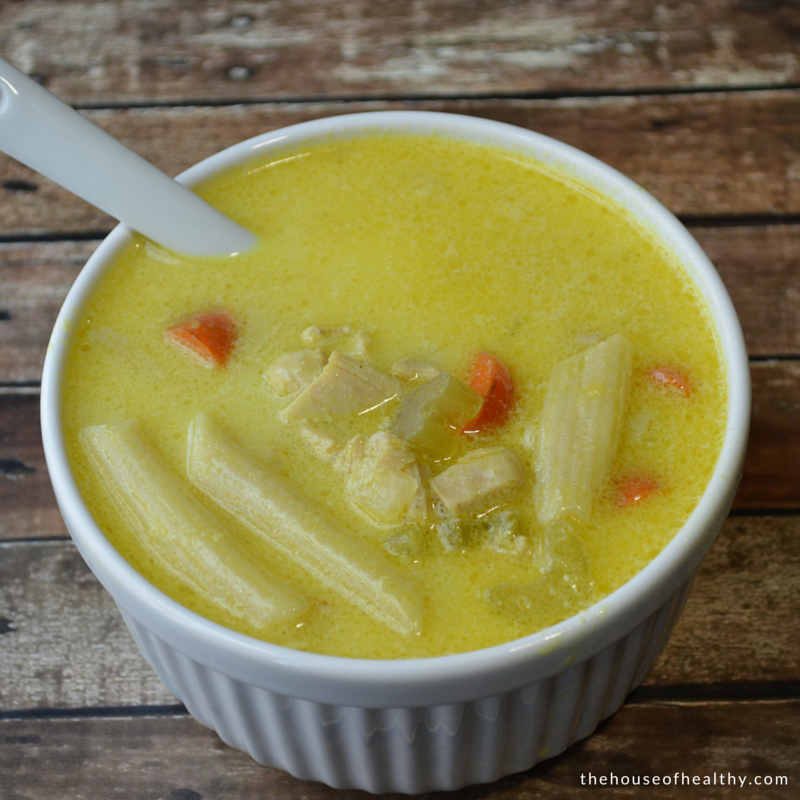 You'll need several pots and pans for this one, but I promise it is worth it and not as hard as it seems.
Pot to boil noodles
Extra large sauce pan to boil chicken
Large pot or dutch oven
Slice your lemon and first 1/4 of an onion. Add the water, lemon, and onion to the large sauce pan. Bring to a boil. Add your chicken to the dish and return to a boil. Once it boils, simmer uncovered for 7 minutes. Flip the chicken and cook for another 5-7 minutes. or until the meatiest part reaches 165 degrees. When it is finished, set it aside to cool.
In another pot, bring water to a boil and add in your noodles. Cook until soft. Drain, rinse, and set aside.
While the chicken and noodles are cooking, heat the olive oil in your dutch oven, or large pot, over medium high heat. Chop your carrots, onions, and celery into 1 inch pieces, then add them to your pot. Cook for 2-3 minutes and add in 1 quart of your chicken broth. Reduce to medium heat. Cook for another 5 minutes and add your frozen corn and peas. Add in the rest of your broth and your bouillon cubes. Stir to incorporate.
As the soup cooks and the flavors come together, chop your chicken into cubes or shreds. Any size you desire works just fine. Add your chicken and noodles to the soup and season with salt and pepper. Add your butter and half&half to the soup to make it extra rich and slightly creamy. Take a taste and add more salt or pepper if needed.
*If your carrots and celery are still pretty firm, cover your soup and bring it to a boil for just a minute or two until soft. 
Turn off the heat, set your soup aside and serve with some crackers, toast, or bread. Play around with the ingredients, swapping for additional veggies, rice instead of noodles, or even turkey instead or chicken. Soothe your soul a bit and enjoy this soup all week long.
Enjoy!
Jessi
PS If you loved this soup, you'll love the recipes in the upcoming 21 Day Modern Detox (2016). Check out all the details here.