Studying at The Institute for Integrative Nutrition opened up more doors than I ever thought possible, while I created a career and life I love.
And now it's your turn.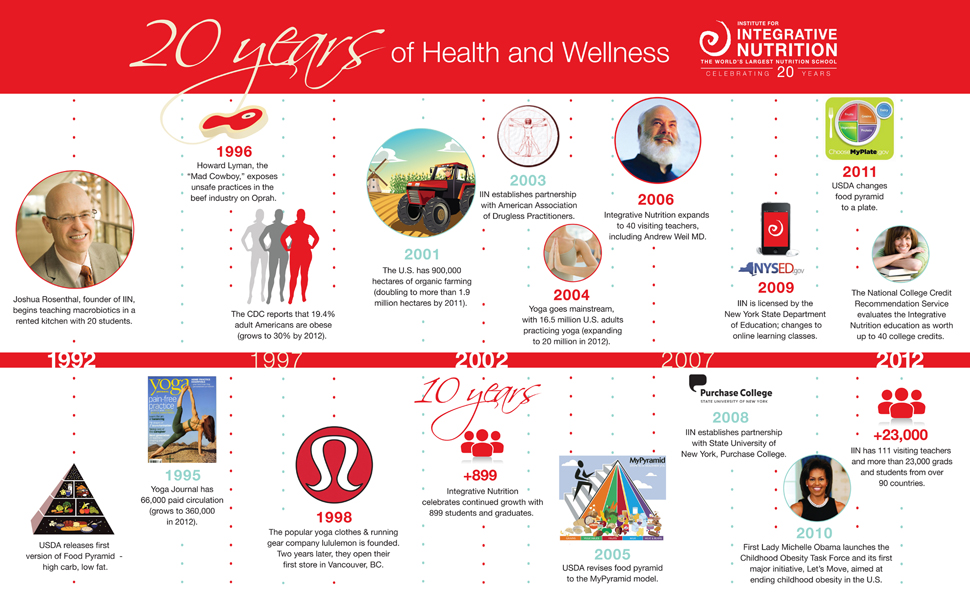 Become an Internationally Certified Health Coach
with the World's Largest Nutrition School
Are you passionate about holistic health and ready to reach a deeper level of personal nourishment? Do you dream of a fulfilling career helping others become healthier and happier? The Institute for Integrative Nutrition's Health Coach Training Program may be perfect for you!
The Institute for Integrative Nutrition is the world leader in the future of nutrition. Founded in 1992 by Joshua Rosenthal, The Institute for Integrative Nutrition has grown from just a classroom of students to training over 50,000 students worldwide. IIN is dedicated to changing the face of nutrition on a global level, through positive change, balance and the highest standards in education.
"Our mission is to play a crucial role in improving health and happiness, and through that process, create a ripple effect that transforms the world."
During IIN's one year program, you will learn from inspiring leaders in the health and wellness industry as well as experts in business and marketing, connect with an amazing supportive community, and experience a remarkable personal transformation – all through a convenient online platform that makes learning on-the-go possible for anyone.
Check out a sample class for a taste of what IIN is all about! 
What You'll Learn:
– Over 100 dietary theories
– The modern health crisis
– Bio-individuality
– Primary Food
– Crowding out
– Deconstructing cravings
– Energetics of food
– Food/mood connection
– Inflammation
– Digestion
– Toxins
In addition to this, IIN will also provide you with coaching, business, and marketing skills so that you can share your knowledge with others as an Integrative Nutrition Health Coach if you choose to do this work professionally – part time or full time!
Who You'll Learn From:
At IIN, you'll learn from leaders in the fields of health, wellness, and sustainable business. Learn about holistic nutrition, motivational speaking, and running a successful  health coaching practice.
Here are a few of the experts you'll learn from:
Dr. Mark Hyman: Functional medicine leader and Director of the UltraWellness Center
Dr. Andrew Weil: Director of the Arizona Center for Integrative Medicine, University of Arizona
Deepak Chopra: Mind-Body Medicine Expert, Bestselling Author and Guest Speaker
Gabrielle Berenstein: Motivational speaker and best-selling author of May Cause Miracles
Health Coach graduates from IIN help clients create vibrant health by providing guidance and support to gradually improve their diet and lifestyle. 
Not sure if it's for you?
Whether you are looking to improve your own health, the health of your family, or work with others to meet their health goals, there is so much IIN can do for you. You'll learn to not only eat better, but also the importance of what really feeds you – mind, body, and soul – and help others see what they hunger for. You'll learn the tools to improve lives and make the world a healthier, happier place to be. 
The best part is – you learn that it is OK to make money doing what you love. Online programs, one-on-one coaching, group support, workshops, book writing – anything you can think of – you can do. Learn to support yourself and your wellness as an Internationally Certified Health Coaching through the Institute for Integrative Nutrition.
Ready to sign up?
As a graduate and IIN Ambassador, I'm here to answer any questions that you might have about the program and my experience as a Health Coach. Fill out the form below and let me know how I can help. 
[contact_form]