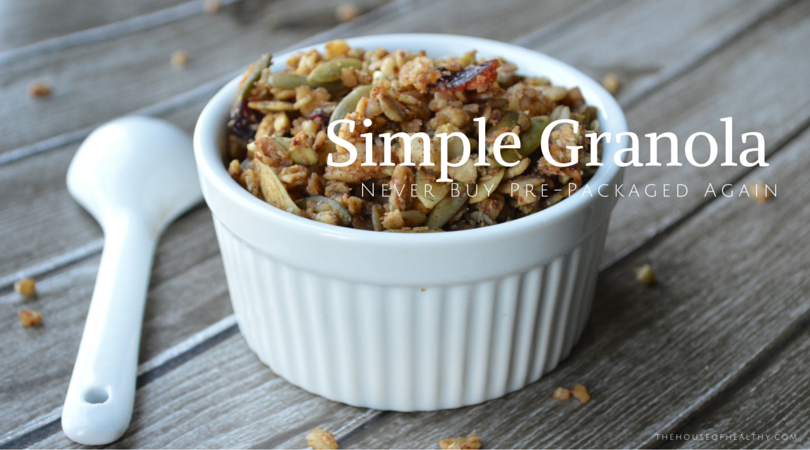 Granola can get a bad rap for being high in fats from too many unhealthy oils, too sweet from unhealthy sugar, and too full of unhealthy grains and carbs. Homemade granola, n the other hand, can be a healthy, and easy to make, addition to your pantry staples.
Granola has a base of oats, a sticky natural sweetener, and any other healthy grains, nuts, or seeds that you want to add. To make sure it stays healthy, make sure you are adding whole, natural ingredients, not other cereals or ingredients that have been processed and altered (beyond maybe roasting).
This granola recipe contains health fats from nuts and seeds, as well as a few heart healthy grains.
Oats:
Oats are a naturally gluten free grain that is also alkaline, which means it won't cause inflammation in your body. Oats are also heart healthy and digestive friendly as they contain fiber and protein to keep you full and satisfied.
Chia Seeds:
Chia seeds are super hydrating, as they soak up any moisture they are in contact with, and are also high in essential omega-3 fatty acids.
Pumpkin Seeds:
Pumpkin seeds are also high in omega-3 fatty acids, as well as heart healthy magnesium.
Hemp Seeds:
Hemp seeds are a fantastic source of both omega-6 fatty acids, as well as omega-3 fatty acids. It is also a great plant-based source of iron and protein.
Buckwheat Groats:
Buckwheat groats are a gluten-free grain-like seed, and they are full of many beneficial vitamins and minerals.
Honey and pure maple syrup are also used in place of other processed or artificial sweeteners. Dried cranberries are used, but you can use any other dried fruit you have on hand.
You can play around with ingredients and add other nuts and seeds, or take out ingredients that you might not be able to find or have in stock. Just keep it simple and keep it healthy.
Simple Homemade Granola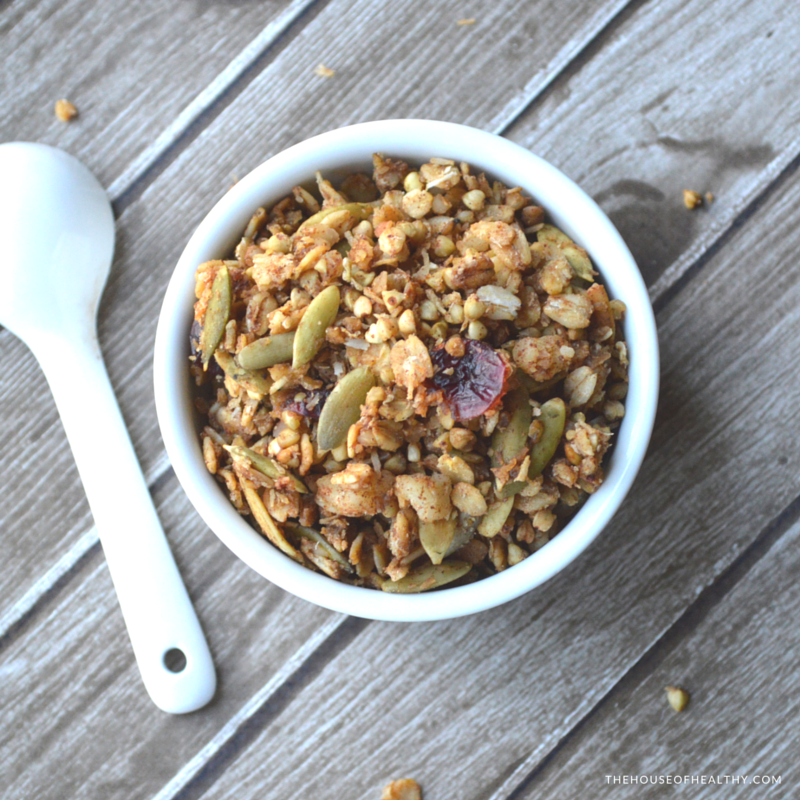 Makes about 4 servings.
2 cups oats (gluten free)
1/2 cup cooked quinoa
1/2 cup buckwheat groats (soaked and rinsed)
1/4 cup chia seeds
1/2 cup pumpkin seeds
1/2 cup hemp seeds
1/2 cup dried cranberries or other dried fruit
2 tbsp honey
1 tbsp maple syrup
1 tsp cinnamon
1/4 tsp sea salt
Preheat oven to 350 degrees. Add all dry ingredients to a large bowl and mix together. Stir in wet ingredients (honey and maple syrup) and stir until fully coating your mixture.
Spread on to a cookie sheet in a thin layer. Bake at 350 degrees for 8-10 minutes. You don't want it to overcook, as it burns easily.
Allow to cool and transfer to an airtight container. I like to store mine in the refrigerator for up to 2 weeks.
It's as simple as that.
Enjoy!

PS If you love this recipe, look for more in the upcoming Modern Detox, starting in just a few weeks. Make sure to sign up to reserve your spot today!
This is not a substitute for medical advice.