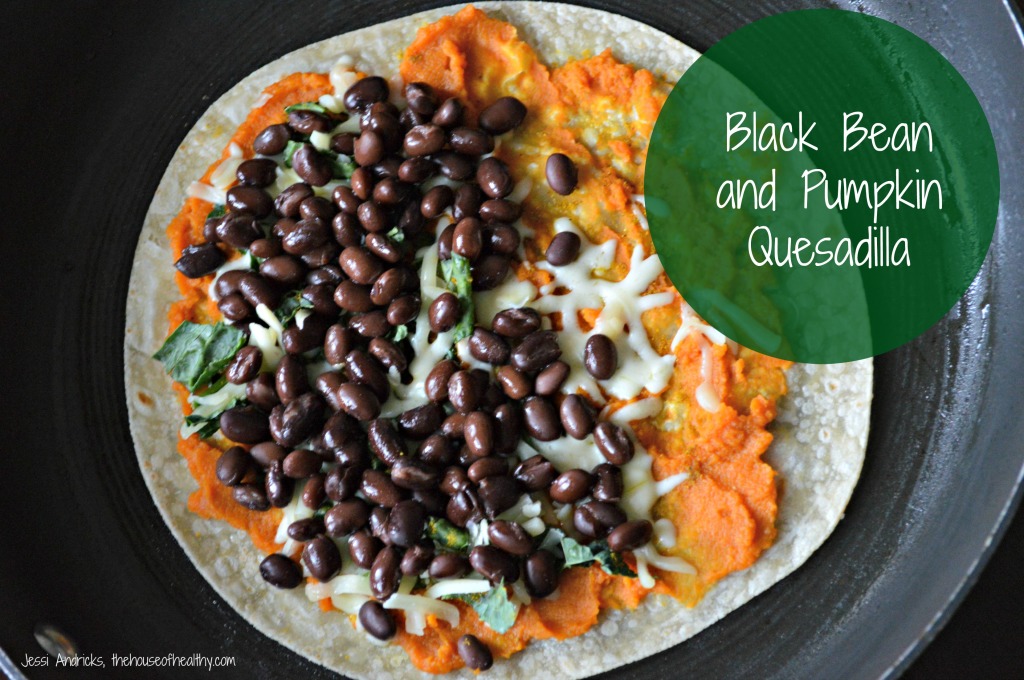 The tree is up, our house is decorated, nog has been drunk, and we even exchanged a gift (because big ones are hard to lift and hide and sometimes Christmas comes early). The fridge has been restocked with normal food, as has the pantry, which means all Thanksgiving recipe leftovers (cranberries, pumpkin, nuts) are being used or stored. And I'm sure you can relate.
When I was recipe testing before Thanksgiving, I had some extra pumpkin puree lying around. I made some Pumpkin Date Squares and still had more leftover. As a not-so-huge pumpkin fan (I love it in baked goods, but that's about it), I decided I would use in in a quick and easy lunch dish. A black bean quesadilla with pumpkin puree. 
I know that black bean and pumpkin might not sound like a great combination (especially with cheese), but I promise, it is. If you've ever had a black bean and sweet potato wrap or bowl, you know that the sweetness of the sweet potato goes perfectly with the neutral flavor of the black bean and the spiciness of the chili powder. Pumpkin matches it perfectly. It a great way to use up the rest of that pumpkin puree in your cabinet, especially if you aren't ready for another pie just yet 😉

Black Bean and Pumpkin Quesadilla
A great way to use up leftover pumpkin puree!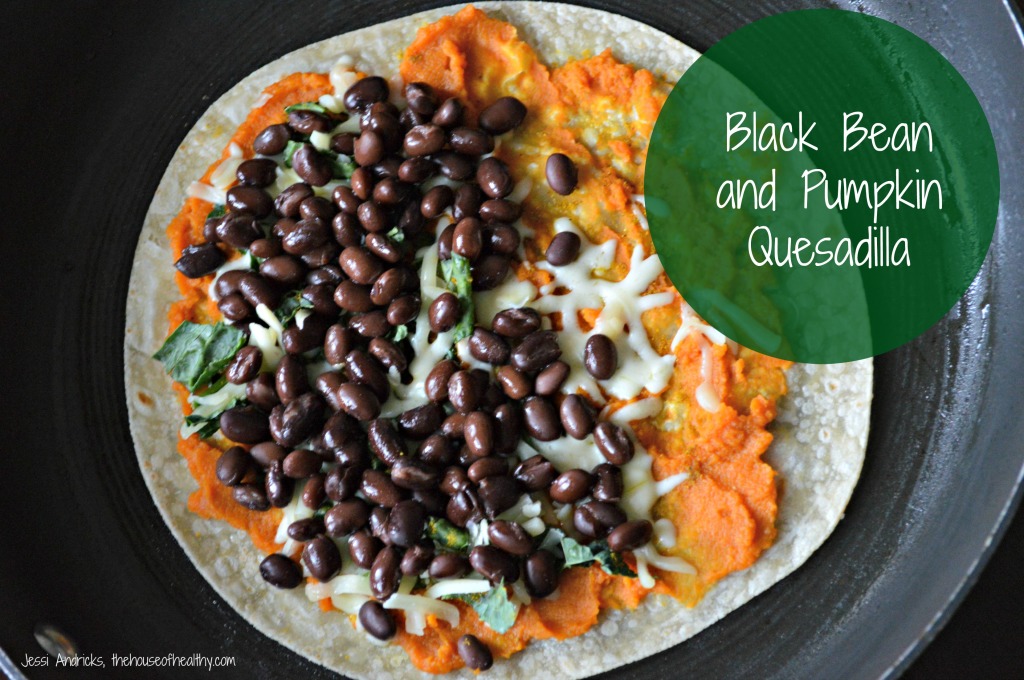 Author:
Jessi Andricks, The House of Healthy
Ingredients
¼ cup pumpkin puree
½ can black beans, drained and rinsed
½ cup spinach, chopped
¼ cup organic (or vegan) mozzarella cheese
1 brown rice wrap (or multigrain, gluten free if needed)
½ tbsp olive oil
*optional, ½ each chili powder and cayenne powder
Instructions
Heat olive oil in large skillet over medium high heat.
Place wrap in skillet.
Spread pumpkin puree over the wrap.
Sprinkle half with cheese and spinach.
Add black beans on top of cheese.
Add spices if needed.
Cover with a lid and cook for 1-2 minutes, until cheese melts.
Fold in half and cut into 2-4 pieces.
Serve with salsa, plain Greek yogurt, or your other favorite quesadilla toppings.
OR
Serve it as a wrap.
Turn heat to medium-high.
Place wrap in a dry skillet with lid.
Heat for 30 seconds or until slightly warm and flexible.
Remove from heat and spread pumpkin puree over ½ of wrap.
Add spinach (raw) and heated back beans (with or without spices). Cheese is optional.
Roll it up and cut in half.
Feedback time: How have you used up your leftovers? Do you decorate for the holidays and if so, are your decorations up yet?
In the next few weeks, I have so much fun stuff to share with you all! Here's a hint: Detox. Book. Socks. What?!
Peace and Love,
Jessi