This is not the recipe I was planning in sharing today. I was going to share a new baked pita recipe or a stuffed kabocha squash recipe. Truthfully, I didn't planned on sharing this before, because it wasn't around until last night. But I couldn't wait to share this with you, because it is honestly the very best thing I have ever cooked. It took me by complete surprise. For one, I just kind of threw it together. Also, I was never a fan of brown gravy when I ate meat, so for this to be the best recipe I've cooked, well, it had to be good.
And it was so simple.
After I went grocery shopping this week, I realized I still had a few thing sin my fridge left over form last week's trip. I suddenly had a ton of choices for dinner, and probably enough to last more than a week – not a bad thing. I knew a few things needed to be used first – the swiss chard, the mushrooms, and the collards, and the brussels sprouts. I decided to leave the cauliflower and sprouts for another night and use the greens (chard) and mushrooms while I could. I had a few potatoes, so I thought "sauteed greens would be great with mashed potatoes, but what am I going to do with the mushrooms?". usually I use them for tacos, or a pizza topping, or something else where they are diced and aren't the star of the show. But neither of those would work with what I had. So I decided to try a gravy – which I have done before. The last time was good, but the mushrooms where chopped, not diced. This time I wanted smaller chunks similar to how I use them in tacos or pizza. This way it would be more gravy-like and less like a mushroom dish.
I added a few ingredients from my cabinet, kind of picking and choosing as I cooked, and the results were fantastic. I made enough for leftovers and it heated up perfectly. I imagine this would be great as a holiday meal, with or without your holiday roast/turkey.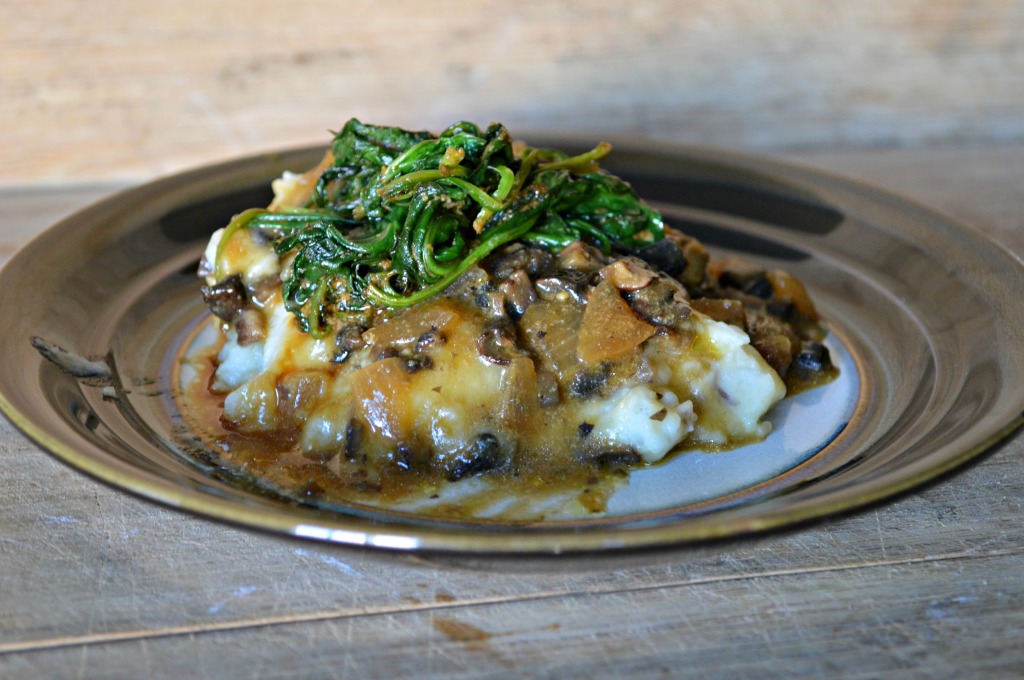 Mushroom and Onion Gravy
A simple but delicious gravy for your next weeknight or Holiday dinner.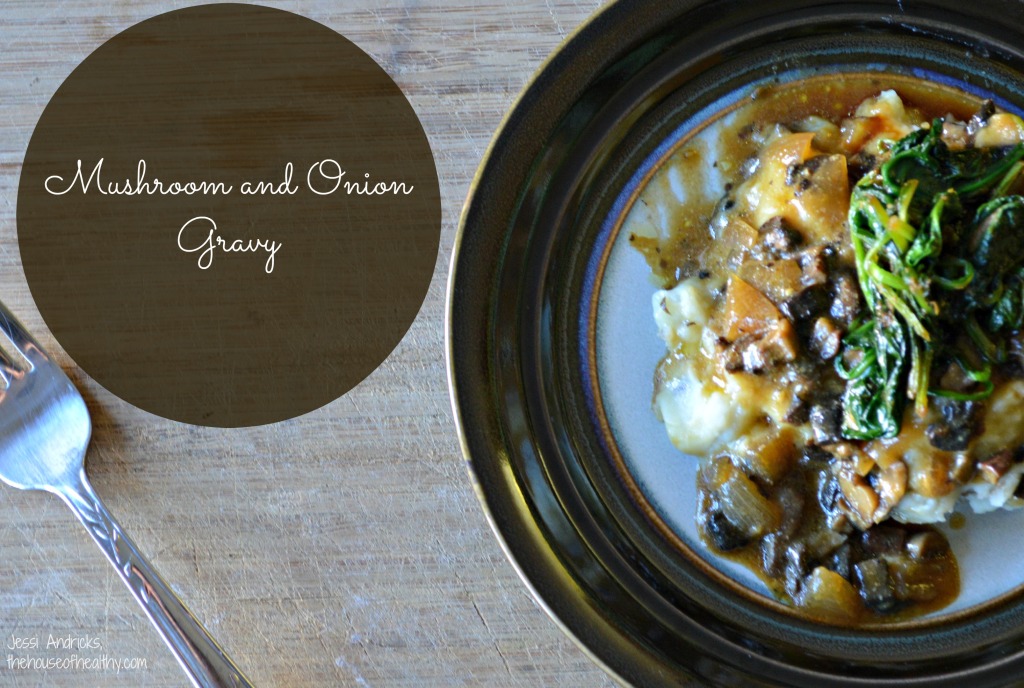 Author:
Jessi Andricks, The House of Healthy
Prep time:
Cook time:
Total time:
Ingredients
1 cup baby portabella mushrooms, diced
½ yellow onion, chopped
⅓ cup water
⅓ cup vegetable broth (low sodium)
1 tbsp tamari
1 tbsp arrowroot powder
¼ cup nutritional yeast
¼ tsp black pepper
pinch sea salt
1 tbsp olive oil
Instructions
Heat olive oil in a medium pan oven medium-high heat.
Add onions and sautee for 2-3 minutes.
Pour water into your pan and add mushrooms.
Stir in arrowroot powder, nutritional yeast, tamari, sea salt, and black pepper.
Cook until heated throughly.
If too thick, add more water or broth. If too thin, add more nutritional yeast or arrow root powder.
Serve your gravy over mashed potatoes, topped with sauteed greens for a decadent but simple dinner.
What is the best thing you have ever cooked? Did you expect it to be fantastic or was it a total surprise?
Peace and Love,
Jessi