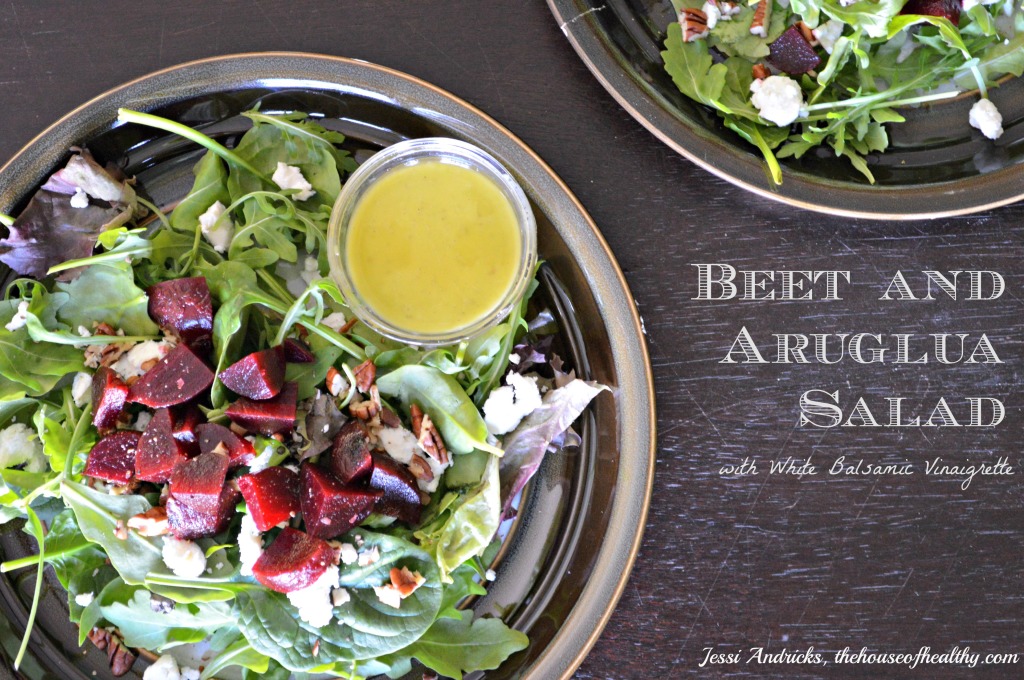 Even though I love making new recipes and meals at home, I absolutely love to go out to eat. Each weekend, we eat out for at least two meals – usually a lunch and a dinner, and maybe another lunch, depending on if we are out and about or not. And even though we eat out, we still remain pretty healthy. For one, when you have certain dietary restrictions (no meat, no dairy, no gluten, etc) it makes your choices much smaller, and usually healthier. It also helps when you live in a place with a multitude of farm-to-table restaurants that use locally sourced and organic produce (and meat if you eat it). 
One of my new favorite meals is a salad that is actually served at 2 different restaurants. They each have a few slightly different ingredients, but the base is the same and has become one of my favorite salads: Beet and Arugula with a soft cheese. The sweetness of the beets, in addition to sugary pecans and goat or feta cheese, is paired with even sweeter balsamic vinaigrette and spicy, earthy arugula to round out the taste. For a slightly healthier version, I use raw pecans (because they are already tasty enough in their own) and easy to digest goat cheese. I also swap straight arugula for  an arugula and spring mix blend, so there is more variety to your greens, but still the earthy and spiciness of the arugula greens. And instead of regular balsamic, I opted for white balsamic vinaigrette to switch it up a bit and keep the fresh colors of the salad.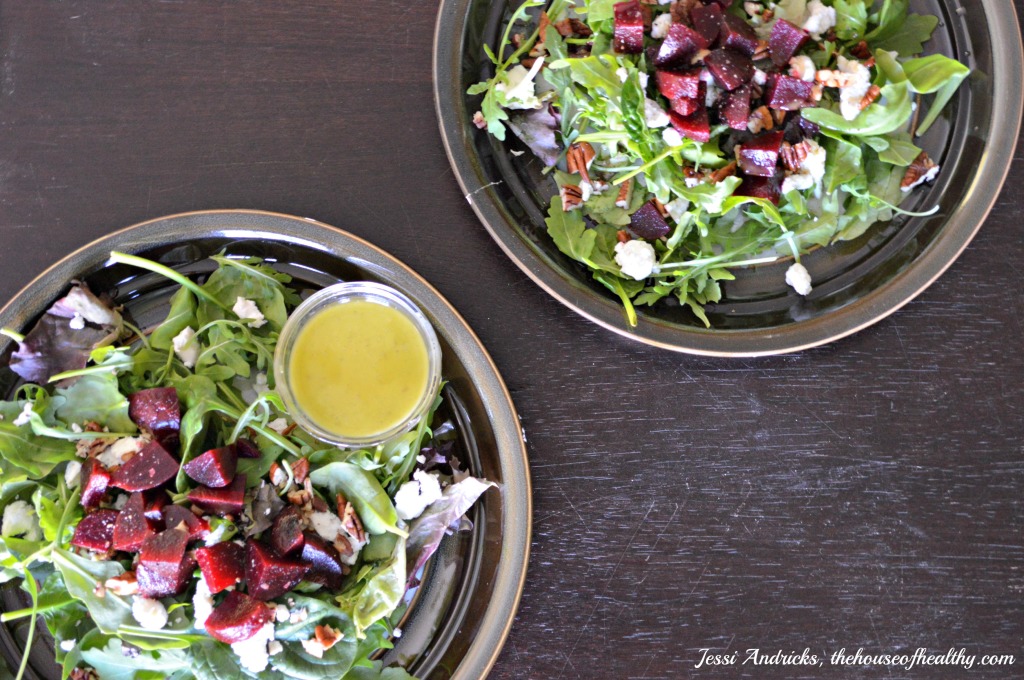 This version is also easy to make at home, so that you can feel like you are eating out, even when you are staying in. I used pre-cooked beets, so I simply had to chop them and throw them on the salad plate. You can do the same (mine were form Trader Joe's) or roast/steam and peel before you prepare your salad.

Beet and Arugula Salad with White Balsamic Vinaigrette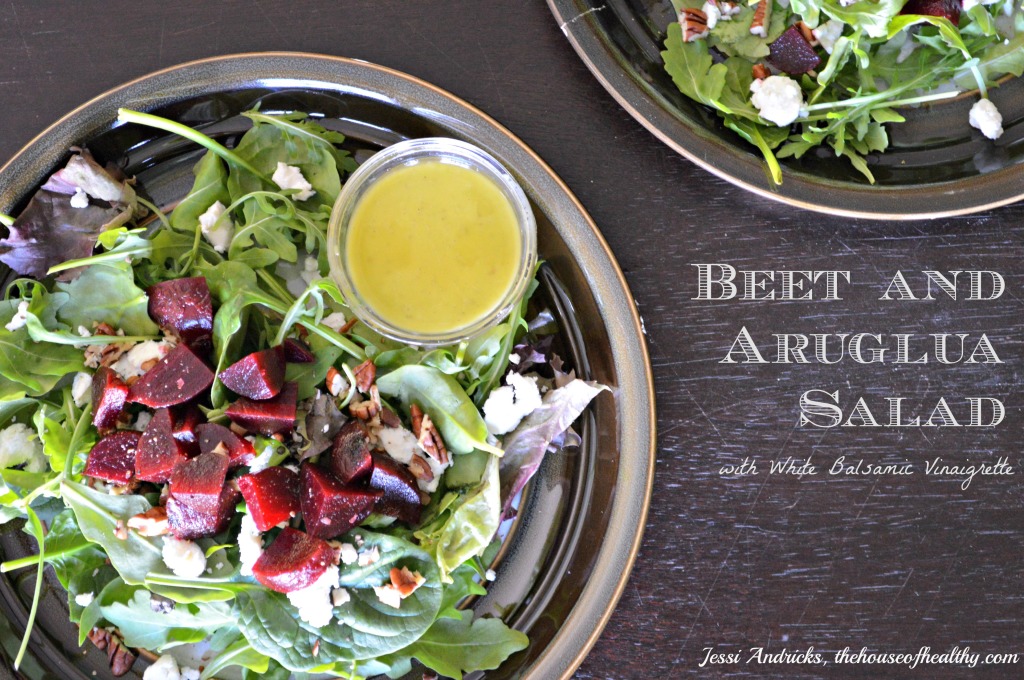 Author:
Jessi Andricks, The House of Healthy
Ingredients
2-3 beets, cooked (steamed or roasted), peeled, and chilled
2 cups arugula
2 cups spring mix
2 ounces goat cheese (plain)
¼ cup chopped pecans, raw
Dressing:
2 tbsp olive oil
4 tbsp white balsamic vinegar
½ tsp sea salt
1 tsp black pepper
Instructions
For your salads:
Add your arugula and mixed greens to a large bowl or onto 2 plates.
Top with crumbled goat cheese, chopped pecans, and chopped and peeled beets.
Add dressing and enjoy.
For your dressing:
Add all ingredients to a blender.
Blend until combined and pour over your salad.
If you have extra, store in a mason jar in the fridge. Shake when ready to use.
What are some of your favorite restaurant meals that you wish you could recreate at home?
Peace and Love,
Jessi