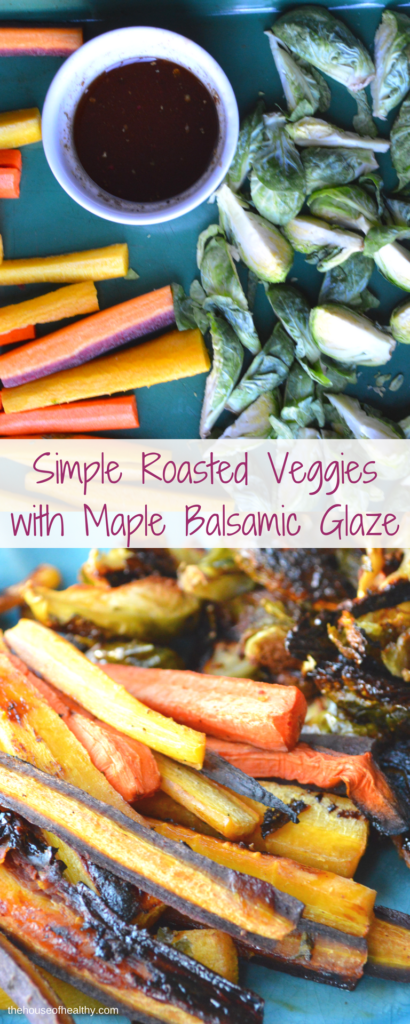 Over the past few months, I have been trying to find ways to eat more vegetables with my meals, without getting bored or spending a ton of time in the kitchen. I know when I eat better, I feel better, and more veggies are the best way for me to do this. I have a found a few ways – bagged salads, steam in a bag veggies, raw veggies – but I tend to get bored with these. As the temps start to cool off, I want something a bit more flavorful and a bit warmer with my meals.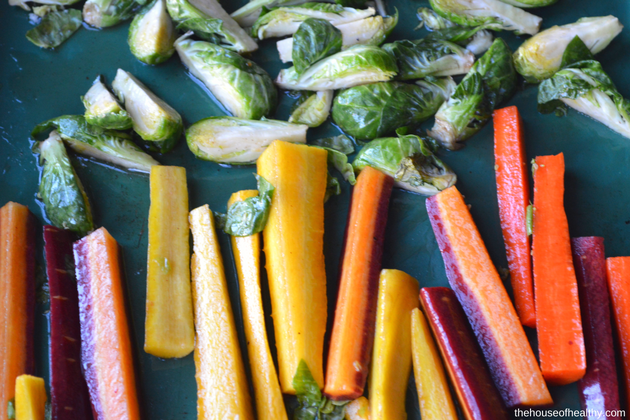 I could spend time sauteeing or steaming, but I don't have time or patience to get out all of dishes and pans needed for that. Or to stand by the stove and wait for it to cook. Instead, I decided to roast my veggies, adding a little sauce to spice things up a bit.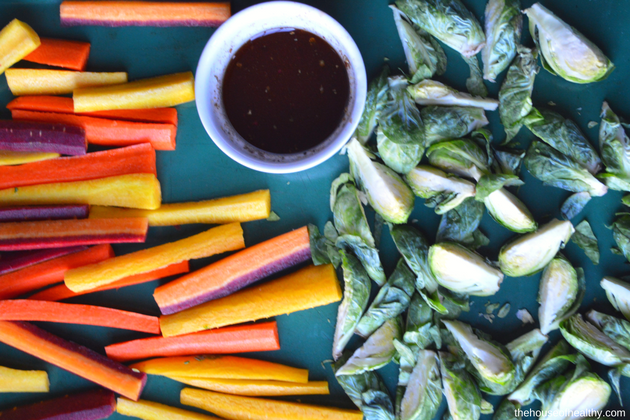 Roasted vegetables are great because they are so versatile and can be made very easily. You don't have to be a pro in the kitchen to pull off a delicious dish of roasted vegetables. It only takes one pan, so it is super simple and makes way less dishes. You can roast potatoes, greens, carrots or root vegetables. It's best to keep the vegetables about the same thickness or consistency to make sure they roast evenly, or you can roast the thicker parts for a few minutes first and add the rest to the pan later. You can even add some beans, meat or tofu to your pan to make it a full meal.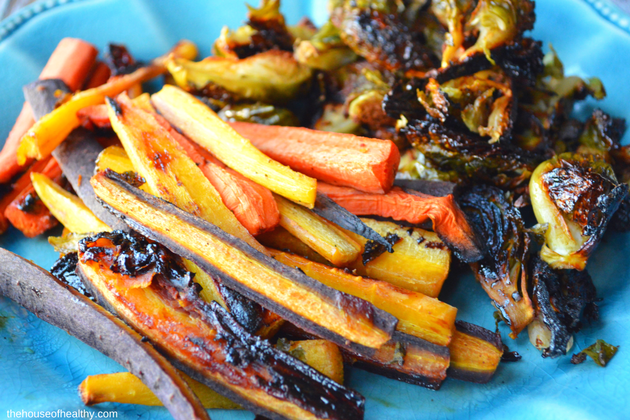 One of my favorites is roasted carrots and Brussels sprouts, with a maple glaze. Maple is a great choice for a sweetener because it is all natural and still contains some healthy benefits. The carrots are already sweet, so this flavor goes so well with them. The roasted sprouts get a little crispy, while the sweetness and vinegar help to balance out any bitterness. It takes very little time to prep (you can even buy the vegetables pre-sliced if you prefer) and you can roast it while you take care of other things. Or kick up your feet and relax.
Roasted Vegetables with Maple Glaze
Ingredients
1 cup Brussels sprouts
4 large carrots
2 tbsp pure maple syrup
1 tbsp olive oil
1 tsp apple cider vinegar
pinch of sea salt
pinch of black pepper
Instructions
Preheat oven to 400 degrees.
Chop Brussels sprouts and carrots into quarters.
In a small bowl, whisk together maple syrup, vinegar, salt, pepper and oil.
Pour syrup mixture into a larger bowl. Dump in the vegetables and coat with mixture.
Spread onto a roasting pan.
Roast for 20-30 minutes. If your carrots are really thick, try roasting them for 10 minutes first, then add Brussels sprouts for the remaining 10-20 minutes.
Enjoy!

For more like this, make sure to sign up for the weekly newsletter and gain access to the FREE resource library.