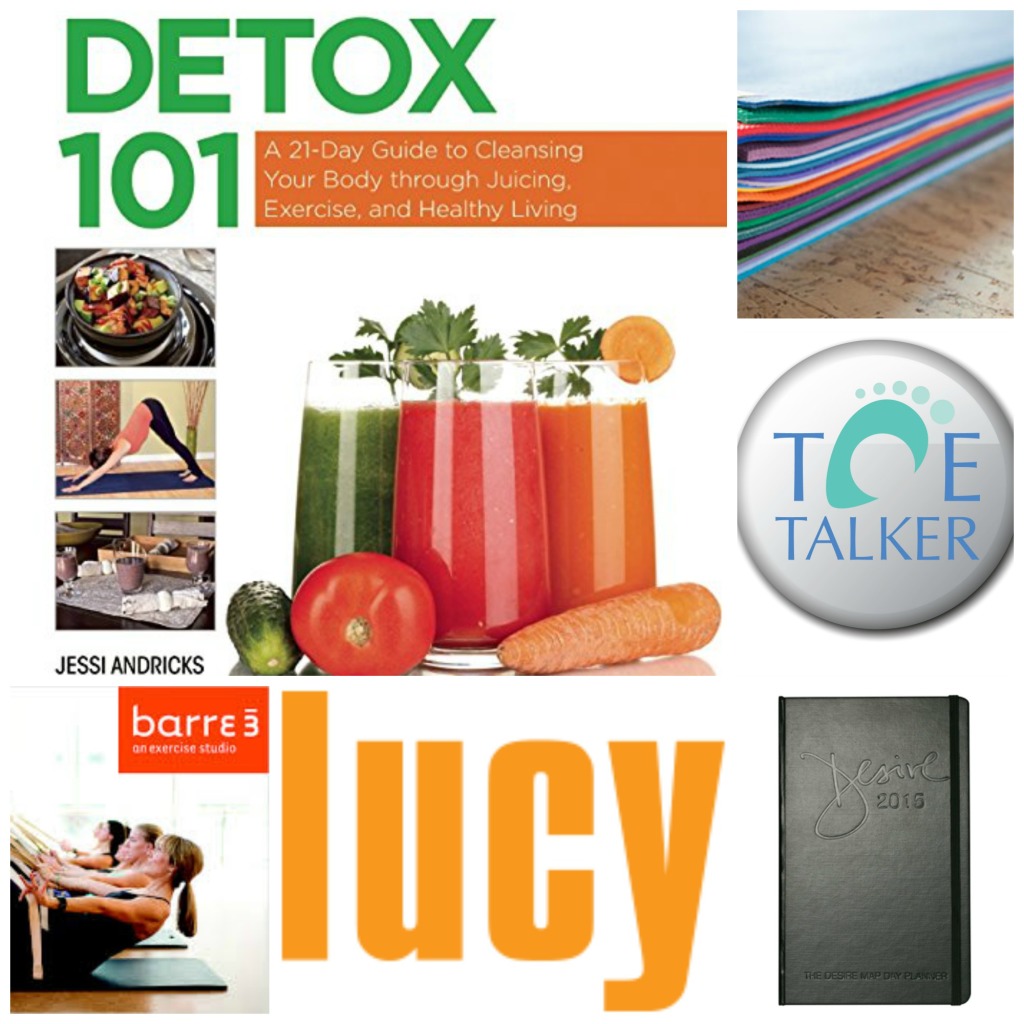 If you are like most of the people we saw out and about this weekend (including us!), you haven't quite finished your holiday shopping yet 😉 I still have a gift or two to pick up, and many, many more to wrap, including a few gifts for the health-nuts I know. To help you out, if you are in the same boat, I have a few items for the most health conscious people of your list.
When you are a health nut, or have a health nut on your Christmas List, it can be hard to figure out just what to get them. Healthy people tend to know what products and accessories they like and what items work for them, and they also know what they don't like. For some people, it can be intimidating to buy them a gift.  What if it's not their style, not their "thing", or really isn't that healthy at all? Instead of stressing out, I put together a list of a few of my favorite healthy gifts, in all price ranges and categories, to help you finish your shopping and give a gift you can feel excited about giving.
PS Most of these, you can click an order online, so you can shop anytime 🙂
Healthier Wake Up: French Press with Organic/Local/Fair Trade Coffee or Loose Leaf Tea
Even health nuts need a little boost now and then. Whether it is caffeine form coffee or tea, or a little home brewed "tea" for a cold or stomach ache, a french press is a fantastic gift. Pair it with a bag of organic coffee or tea, throw it in a bag, and you have the perfect gift to give.
Healthy Products (for home and for skin):
If you are looking for a gift set, full or products that are healthy for body and home, Honest Company is the way to go. This company uses all natural products, that are safe for pets, babies, grown-ups, and the homes they all live in. While it is marketed to Moms, and has a ton of great baby products, it is also great for any person who loves natural skin lotions, soaps, and more. If you're looking for a smaller gift to give, try a locally made, soy-based candle. These burn cleaner, meaning they don't add smoke or soot to the air. They are usually paired with an essential oil, which means there are no artificial fragrances or chemicals burning as the wax melts.
Deep Non-Goal Setting Daily Planner:
Rather than just a simple daily planner with a calendar and dates, try giving one with areas for daily/weekly/monthly goals, affirmations, mantras, and wishlists, such as the Desire Map 2015 Daily Planner.
Support Their Workout:
Whether  your gifting to a yogi, Pilates student, or gym rat, a yoga mat will come in handy. My favorite long lasting and slip-proof brands are Jade Yoga and Hugger Mugger. Both come in a variety of colors, styles, and prices.
Simple Reminders:
These are one of my new favorite things, from a brand new company! Toe Talk socks feature mantras, or messages, knit into the socks, so every time you look at your feet, you get a little reminder to "seek balance", "inhale/exhale", or "be mindful". Most of the socks also have grip son the  bottom, so they are perfect for barre, Pilates, yoga, or any other barefoot class. PS Toe Talk is currently holding a sweepstakes for a trip for 2 to Turks and Caicos, so while you head there to shop, also enter to win!
Look Great, Feel Great with Lucy Activewear:
Most health nuts and gym goers can agree to one thing – you can never have enough workout clothes! Try a brand that looks great and feels great, such as Lucy, for some of the most functional and flattering fits around.
Unlimited Yoga or Barre:
If you really want to give someone health, sign them up for a month or year of unlimited workouts. Many of these sites, such as GaiamTV or Barre 3, offer close to a 100 workouts (or more) and many bonuses. Gaiam also offers documentaries, workshops, and a wide variety of workouts. Barre 3 offers barre workouts, but in a large variety, as well as nutritional programs and a starter kit.
Total Mind-Body Health:
If you are looking to help someone start fresh in the New Year, recharge their total health, and feel vibrantly healthy, order them a copy of Detox 101, my new book set for release on January 5th.
Personal Stylist:
If giving a health gift makes you feel nervous, or just isn't your thing, give them something a but more personal and super fun – a Stitchfix Box. Stitchfix is an online personal stylist, who send a box of clothing each month. The person decides what to keep, what to send back, and gets items sent that will work for their specific needs. This would be great for someone who owns a ton of workout clothing, but often complains of having nothing else to wear.
Phew, that was a ton! But now you are definitely set, and ready to gift the healthy (or soon-to-be-healthy) person you love with a gift they will love 😉
Peace and Love,
Jessi
PS I also love Ryka shoes, made specifically for women's feet, but since shoes are hard to buy, I left them off the list. However, if you are buying shoes for your loved one, consider Ryka, because they are awesome!
Please note I was not compensated for this post, however, I am an affiliate for some of the links and do receive a commission.